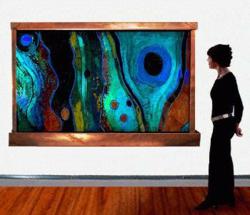 Camas, WA (PRWEB) November 22, 2012
Water Fountain Pros announces the launch of a new line of self-contained wall fountains featuring artistic designs. These unique and beautiful wall fountains are true three-dimensional pieces of art that are hand painted and one-of-a-kind. They are easy to install and provide the soothing characteristics of a fountain, with fine art. These wall water fountains are created by artists for indoor usage exclusively and can be custom designed by a fine artist to represent the aesthetic design of any home or office.
They come with a two-year warranty on the recirculating electric pump from the manufacturer and multitask as both a stunning artistic piece and a natural humidifier for the room. Water features and fountains have been shown to encourage relaxation while decreasing stress; in today's hectic environment, creating a space of escape and serenity is necessary not only for mental health, but physical health and well being. Researchers believe stress is a leading cause of chronic health conditions including high blood pressure, cardiovascular disease, and creates problems with our immune system functioning. It is essential for all individuals to take time to relax and de-stress at the end of the day.
Artistic wall water fountains can be installed in any room of a home or office. They are available in a wide array of designs from modern to traditional. Personal photos can be incorporated into wall fountains by artisans to create unique and truly personal soothing fountains ideal for any home or office setting. Corporate clients can create these custom wall fountains to be used in satellite offices or additional locations in a variety of ways. Water Fountain Pros allows customers to search fountains by price, size, material, style and features.
About Water Fountain Pros
Water Fountain Pros is dedicated to low prices, free shipping and providing consumers with the finest water fountains on the market today. Water fountains for indoor and outdoor spaces are available in a wide array of designs, materials, price points, and sizes to complement any decor and fit any budget. Water Fountain Pros also offers the necessary accessories including water treatments, lights, covers and pumps to their customers. Visit http://www.WaterFountainPros.com to view their product lineup and learn more about how water fountains can change a space into a relaxing destination.