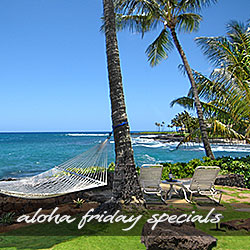 With this week's extended Aloha Friday Deal, there is more time to coordinate airfare and travel arrangements. Not only is it a great deal, it is available for two extra days in honor of Black Friday. -- JP Parrish, Parrish Kauai
Poipu Beach, Kauai, Hawaii (PRWEB) November 20, 2012
The premier Kauai vacation rental company, The Parrish Collection Kauai, has announced a special version of the popular "Aloha Friday Deal." In celebration of Black Friday, their weekly Kauai deals will be extended from one to three days, November 23 to 25, 2012. All participating Kauai condos will be announced at 1am (PST), Friday, November 23, on the Parrish Kauai Blog or by calling the reservation office at 800-325-5701 during business hours. To make things more enticing, guests will have multiple Kauai resorts to select from for their Kauai vacation in choice locations on the North Shore of Kauai and the South Shore of Kauai.
"With this week's extended Aloha Friday Deal, there is more time to coordinate airfare and travel arrangements," said JP Parrish, Owner of The Parrish Collection Kauai. "Not only is it a great deal, it is available for two extra days in honor of Black Friday and guests have up to 12 months to complete their stay."
Poipu Kai Resort Featured at Poipu Beach on Black Friday
South Shore Kauai guests will save on one of the most popular Poipu Kai condos. This prestigious master resort features over 70 acres of expansive lawns and tropical gardens, access to multiple swimming pools, tennis and more. A greenbelt walking path connects each property to famous Kauai beaches like Brennecke Beach.
Hanalei Bay Resort Featured at Princeville Resort on Black Friday
North Shore Kauai guests will have an elegant Princeville condo to choose from at the popular Hanalei Bay Resort with views of Bali Hai. The swimming pool at this Kauai Resort was chosen by Fodor's as a top ten hotel pool in the USA. Guests can experience the idyllic Kauai beaches on the North Shore including nearby Hanalei Bay with its crystal blue waters and rated by Dr. Beach as one of the top beaches in America.
Weekly Aloha Friday Deal Offers Savings on Kauai Vacation Rentals
Facebook fans and blog subscribers are the first to be notified of each week's Aloha Friday Deal. There is one Kauai vacation rental featured at a substantial discount with the same superior amenities and service that guests have come to expect. A complimentary guest concierge is available to assist with Kauai activities including Kauai dining options. Past properties have included oceanfront Kauai luxury vacation rentals large enough to host small Kauai weddings and groups for an Executive Conference. Parrish Kauai guests always receive a 5% discount on Hawaiian Airlines and exclusive Kauai car rental rates.
Kauai Deals - Black Friday Policies
A minimum 7 night stay is required and the non-refundable payment is due at time of booking. This offer applies to new reservations only and stays must be completed within 12 months of booking. The Black Friday deal cannot be combined with any other special or promotion. Blackout dates are December 19 to January 5. Additional processing and cleaning fees apply including resort fees at Hanalei Bay. Rates plus 13.416% state tax. No travel agent commissions paid on this rate. Please review the Aloha Friday page for complete details.
About The Parrish Collection Kauai
The Parrish Collection Kauai, established in 1984, represents the island's finest selection and variety of luxury Kauai vacation rentals including the most oceanfront properties at Poipu Beach. Rated Excellent by TripAdvisor and as a "2012 Top Rental Manager" by FlipKey, their distinguished collection of 200 homes and condominiums on Kauai's North and South Shores is complemented with a dedicated long-term staff and a full service Guest Concierge. Four offices are located in Koloa, Princeville and at Poipu Beach to assist guests and owners. On-line direct booking and property information is available on their website and by calling 800-325-5701. Their new Kauai webcam offers live views of the Poipu Beach coastline.