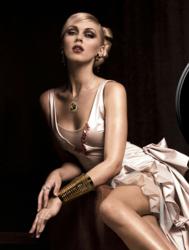 People's in-boxes are drowning in an avalanche of meaningless information. Our gift guide makes it possible for us to only contact our clients when they need us with suggestions that are relevant to them.
Houston, TX (PRWEB) November 20, 2012
Every year before Christmas, people rush into the stores and online to search for the perfect gift ideas. For those thinking of giving the gift of jewelry this holiday season, the choices can be overwhelming. But despite countless mall retailers, neighborhood jewelry stores, online marketplaces and large jewelry stores, it can still be a huge task to find just the right item. According to Alexa Ronngren, President of Amatyzt, the inspiration for a tailored gift guide was very personal, "My mother is a notoriously good gift giver and picky gift recipient. A few years ago, I decided I was going to give her a special necklace as a birthday gift. I spend over a month looking everywhere for the perfect gift. Yet I still couldn't find something that I knew she would love." When creating the holiday gift guide, Alexa wanted to do something much more relevant to the people giving and receiving the presents than most gift guides out there. But in order to pull it off, the entrepreneur needed to tackle this problem in a systematic way.
One of the missions of Amatyzt.com is to make shopping for jewelry easier for the customer. The site is carefully curated so that customers can expect to find unique and interesting designs by high quality jewelry designers. And the company has a style guide to help customers find the type of jewelry that fits their style and personality. But translating that into a personalized holiday gift guide could proved to be a challenge. "We wanted to get enough data about each gift recipient to make a useful and accurate recommendation, but we didn't want to overwhelm the gift giver with a style personality quiz," explains Alexa. In the end the company decided that the best way to find the right gift to recommend is to determine the relationship between the giver and the recipient, the recipient's personality, taste, and attitude about jewelry. Thus the company came up with a simple form that takes just a few minutes to fill out per gift recipient.
But the Tailored Holiday Gift Guide is more than just a Christmas gift guide. "People's in-boxes are drowning in a avalanche of meaningless information," Alexa elaborates, "Our gift guide makes it possible for us to only contact our clients when they need us with suggestions that are relevant to them." Amatyzt does this by offering clients the opportunity to list birthdays, anniversaries, and other important dates and holidays on a per person basis. That way, the company can send anniversary gift ideas for a spouse, a graduation gift suggestion for a daughter, a Mother's Day gift recommendation that fits. The company starts sending gift ideas between eight and six weeks before the holiday or special date in order to allow plenty of time for choosing a gift and shipping it. "Much of our jewelry is either one of a kind or limited edition, so it may be made on demand. And since our designers are from all over the world, we have to leave plenty of time for shipping as well." This system allows Amatyzt to give clients a chance to get their shopping done easily, while looking like they worked very hard to find the perfect gift!
ABOUT AMATYZT AND ITS DESIGNERS
Amatyzt.com is an online jewelry boutique that specializes in unique designer jewelry by notable designers from all over the world. Founder Alexa Ronngren came up with the idea after meeting an award winning jewelry designer who despite having talent and accolades did not have the marketing knowledge to promote her brand. Coming from a family with four generations in the gemstone business, Alexa has been able to curate a special collection of beautiful, high quality jewelry, watches and accessories on Amatyzt.com. Some designers are international award winners, others are well respected in their home market, and a few are emerging stars just starting to get discovered. The site's handpicked international array of designers includes Maria Moreno from Argentina, Mikky Eger from Milan, Atelier Orafo from Florence, Patrick Jerer from Beirut, Posse & Rake and Perihan Tufan from Australia, Sissai from Peru, Gwel from Barcelona, Leonor Heleno from Paris, PavlinaJewel from Athens, Pia Cevallos from Miami, ShinYi from New York, and Stefan Johansson Vaxjo. Despite coming from different corners of the world, they all share a passion for creating interesting, gorgeous, and uncommon jewelry.