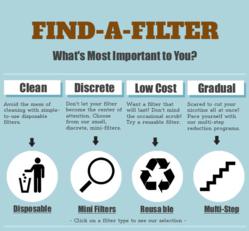 (PRWEB) November 20, 2012
QuitSmoking.com© today announced the launch of a new online store, CigaretteFilters.com, which offers a variety of discount cigarette filters and cigarette holders. The store is part of QuitSmoking.com's network of more than 1,200 smoking cessation related websites.
Research shows that tar, nicotine, and other chemicals found in cigarette smoke can lead to lung cancer, heart disease and other health issues. The U.S. Surgeon General has declared nicotine a drug and nicotine addiction as tough to beat as heroin or cocaine. For a smoker, the first step toward breaking this addiction is to recognize the problem and find an effective plan to quit smoking.
Gums and patches don't reduce a smoker's dependency on nicotine. They just allow them to get it from another source. Cigarette Filters, however, can help smokers lower tar intake and reduce nicotine dependency. This prevents the smoker from simply replacing smoking with another nicotine addiction. Filters allows smokers to reduce tar by 25-90% and gradually reduce nicotine dependence. When the smoker is finally ready to put down their last cigarette, they can do so with reduced physical pains, mood swings and cravings that make the cigarette habit so hard to break.
The Effects of Smoking
Smoking is the direct cause of nearly 1 in 5 deaths (5.4 million annually), in the United States. Today, more than 45.1 million Americans (21%) and 1.3 billion people (19%) worldwide smoke regularly. According to recent polls, 74% say they would like to give up smoking but only 3–5% of smokers are able to give up smoking without help.
About QuitSmoking.com
Founded in 1997, QuitSmoking.com is the number one site worldwide for people who want to quit smoking. Through its flagship site, quitsmoking.com, and its network of more than 1,200 websites, the company provides quit smoking products, community support, and educational information to smokers who want to quit. It is estimated that since it was founded, the Quit Smoking community, information, and products have helped smokers save 425,300 years of life and an estimated $6–8 Billion in personal expenses.