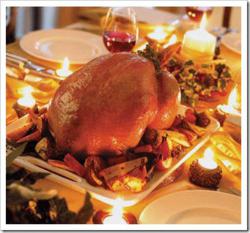 Happy Holidays!
Monroe, WI (PRWEB) November 20, 2012
Tis the season to celebrate! This time of the year is a great time to gather with loved ones, to be grateful, to share in delicious meals, baked goods, and to spread the holiday cheer. The biggest downside to the holiday season is that it can wreck all the work done in the gym. There is bright news though. With a few simple rules all that work in the gym and the kitchen will not be in vain.
1. Eat in moderation. It is easy to go back for seconds, and thirds but resist this temptation. One plate should be enough. If this is not the case though wait twenty minutes and if the hunger still persists enjoy another half plate of food.
2. Drink in moderation. Scott Tischler does not in any way condone drinking however; there are many families that celebrate with some alcoholic beverages. If this is the case then enjoy a drink or two and that is it. One way to make a drink last longer is to "nurse" it. This means to sip at it slowly instead of guzzling it down.
3. If there is a need to attend several parties in a day then remember not to graze. Eat one meal at one party then withhold at the other parties. It is not required to eat at every single party throughout the holiday season. However, if there is a need to eat at several parties then eat small meals at each party instead of a full meal.
4. One dessert is more than enough. With so many parties there will be desserts galore. Remember not every dessert needs to be sampled. Pick one and have a small portion, or just one bite, and then sustain from the others.
Just remember to think about all the hard work that has been done in the gym and the kitchen. It is easy to get sidetracked during the holiday season but with these rules and some self-determination losing weight and staying in shape will not seem like such an uphill battle. Happy Holidays!