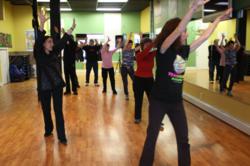 Dance has helped me in so many ways-both physically and mentally-to cope with having Parkinson's Disease
Queens, NY (PRWEB) November 20, 2012
Sharon Epstein and Dr. Beth Hochstein, both from Great Neck, Long Island believe that it was fate that they met at a 3-day training course for The Mark Morris Dance for PD® program three years ago. Beth Hochstein, diagnosed with Young-Onset Parkinson's Disease (YOPD) at age 36, went back to her dance roots as a form of exercise which was recommended by her physician. Sharon Epstein, a registered yoga instructor and dance therapist had already been teaching a Dance for Parkinson's Disease class. Beth decided to work with Sharon after retiring from her career as a podiatrist. "Dance has helped me in so many ways-both physically and mentally-to cope with having Parkinson's Disease," stated Dr. Beth Hochstein. "I wanted to share my positive experiences with dance and PD in the hopes of helping others cope with the daily challenges that people with Parkinson's Disease face."
While the two began teaching together, each brought in their own unique style of dance and exercise to the class. Beth also became a licensed Zumba® fitness instructor after she developed a great love for her zumba classes. Beth and Sharon combine ballet, tap, jazz, yoga and even some latin dancing to create a fun experience for their students. Even though their students are at all stages of Parkinson's disease, what is noticed is that the music and dance movements seem to help their students both physically and mentally. They have also noted that dance has seemed to assist with balance and strength and to relieve some of the rigidity associated with PD.
The Parkinson's Disease dance class begins with stretching exercises and dance movements in a chair. Then the class progresses to some ballet and tap holding on to a ballet barre. And last we do dance across the floor and easy, fun dance routines.
"Joining Dance for Parkinson's Disease NY is one of the most healthy decisions I've made. PD Dance addresses the mind/body connection through sequence memory, muscle strength, balance, coordination, and creativity. Being part of this special group keeps me in touch with others who share my concerns and needs. I leave the class with buoyancy and a renewed commitment to living well. I look forward to remaining a faithful attendee for a long time," states Barbara McCabe, student of the NY Dance for Parkinson's class.
The class has just moved to a larger location at RhythmZ Dance and Fitness studio located at 252-15 Union Turnpike, Bellerose, N.Y. Classes are held on Thursdays from 1:00-2:00 PM. For more information on this class visit their website http://www.danceforparkinsonsny.com.
Our weekly goal is to keep our students moving and increase flexibility while providing a fun and interactive class. When the music starts, we try to take our students away from their everyday struggles with PD with stretching and many different forms of dance. It has had a positive affect on our students and has been a rewarding experience to teach the class.