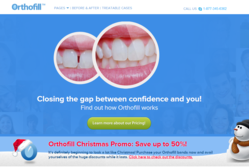 Ottawa, ON (PRWEB) November 21, 2012
Orthofill, the leading provider of an alternative, non-invasive solution for teeth gap, is launching the second of their Christmas Promo Series for this year. This promo series was launched in celebration of the Yuletide season, the thousands of clients they have served successfully, and to show their appreciation towards the clients they do business with. And with the Christmas season fast approaching, savings can mean a lot during a time of purchasing gifts for friends and family.
Two weeks ago, a discount of 30% was applied on all Orthofill packages, but it gets better on their second promo: Orthofill is giving up to 50% worth of discounts for their small, medium and large packages until November 28, 2012.
For individuals looking for less expensive and alternative ways to close their teeth gaps, Orthofill provides this and more. With a 100% Money Back Garuantee, clients are ensured of getting back the amount they paid should results not be met after strictly following all instructions.
To use Orthofill bands, they only have to be worn around the teeth for 12 hours overnight for at least 30 days until the gap is closed. More detailed instructions can be found on their website.
More information on the promo as well as respective shipping fees can be found on their pricing page.
Visit the Orthofill website at http://www.orthofill.com to place orders, check out available individual and wholesale packages and answers to commonly asked questions regarding the product.
For other updates such as promos, those interested may also follow them on Twitter and Facebook.
About
Orthofill is a company owned by Clicking Labs, Inc. With dedication and perseverance, they were able to bring together a team of multi-talented individuals to provide the world with creative and interesting marketing strategies to drive success to its clients. It has stations in Ontario, Canada and Cebu, Philippines.