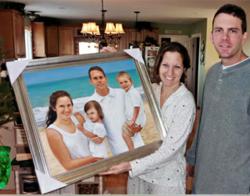 One of many satisfied customers from PaintYourLife.
North Miami Beach, FL (PRWEB) November 20, 2012
Tis the season to be jolly and most of us, are already scrambling around trying to find the perfect gift for everyone on their list. Nothing lets family and friends know how much they are loved more than gifts that are truly personal. This year PaintYourLife has thrown open the doors of their new location at 3479 NE 163rd St. in North Miami Beach, Florida just in time for their customers to be able to shop for the perfect personalized gift for everyone on their list.
To make shopping for those all-important gifts even more fun and affordable, PaintYourLife is offering all of their artworks at prices shoppers can't afford to pass up. They are offering a full 30% discount on all artworks in the store. Imagine being able to give family members such as parents or grandparents a personalized canvas of your last family photograph, a holiday gift such as this will become a family heirloom and is sure to delight not only the recipients, but everyone who sees it.
For those that have yet to visit PaintYourLife on 163rd St, they are in for a holiday treat. On every inch of wall space shoppers will find a huge array of custom oil painting portraits, custom designed pop art styles, printed photos on canvas, hand crafted painting reproductions, and wall art canvas decorations to choose from. These items can be personalized or purchased as is, and this is only a small part of what they have to offer.
What makes PaintYourLife the perfect place to go shopping for that 100% unique holiday gift is that buyers can bring their own photographs in and have them turned into amazing personalized works of art. They can take these photographs and reproduced them on canvas in such a way that they will look as if the image painted by an artist. Picture the look on the faces of family members when they unveil what looks like a hand painted family portrait.
Imagine being able to take that one special vacation picture and being able to turn it into a canvas wall hanging for a loved one to hang in their office or creating a pop art collage out of photographs of the kids as they were growing up. All of these will make the ultimate in personalized gifts this holiday season and what could be better than getting these amazing one of a kind gifts for 30% off regular retail prices. For those who have not already stopped by the all new PaintYourLife store at 3479 NE 163rd St. in North Miami Beach, now is the perfect time. Get a jump on holiday shopping and delight everyone today.
PaintYourLife.com, A world leader in personalized canvas art made in cooperation with PickArt llc.
PaintYourLife will support PickArt llc to open the first shop that will sell all PaintYourLife art works. For more information contact PaintYourLife at 3479 NE 163rd St. North Miami Beach, Florida.