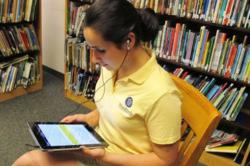 Our accessible audiobook library has long been recognized as a proven accommodation for those who are already certified with a disability – but children and parents at earlier stages of the family journey have critical needs as well.
Princeton, NJ (PRWEB) November 20, 2012
Learning Ally, a nonprofit organization serving 300,000 children and adults across the U.S. who have visual, learning and reading-based disabilities, has transformed its website and launched significant new features and services to further benefit its members, as well as parents and teachers.
The newly redesigned website offers distinct sections tailored for students, parents, educators, adult learners, and volunteers. It is more streamlined and user-friendly, making it easier than ever for members to access the organization's online library of more than 75,000 human-narrated audiobooks, including the world's largest library of audio textbooks. New features include:

Improved browse and search functionality, enabling members to filter the audiobook library by subject, grade level, and title popularity, as well as by author and title.
The Parent Resource Center, a rich hub of information for families of children facing reading and learning challenges. Here parents will find guidance addressing every stage of their journey – whether they are just beginning to explore the possibility of a learning difference, or if their child has already been diagnosed and they are seeking accommodations and information about different learning styles. A comprehensive array of articles and fact sheets cover topics ranging from how to detect early signs of a learning disability, understanding a child's rights in the public school system, and much more.
The Resource Locator, a national database of professional specialists who can provide parents with formal diagnosis and appropriate certification required for their children's accommodations.
Free App and Software, including the latest release of the Learning Ally Audio app for accessing audiobooks on iPhone, iPad, and iPod touch; and ReadHear software for Mac and PC.
VOICEtext, providing sentence-by-sentence highlighting of text on the screen in synch with audio narration. In initial stages, this feature will be incorporated into a limited selection of titles in Learning Ally's library, will expand into more titles over time, and will benefit many individuals for whom a multi-sensory approach to reading is recommended.
In conjunction with the new website launch, Learning Ally is also introducing a web-based tool for educators to individualize instruction for students with print disabilities. Teacher Ally will enable special education teachers to easily assign audiobook reading materials to individual students or an entire class; provide individualized instruction; monitor progress; generate detailed reports on the number of pages completed and time spent reading; and collaborate more effectively with parents.
"For decades, our audiobook library has been recognized as a proven accommodation for those who are already certified with a disability – but children and parents at earlier stages of the family journey have critical needs as well," said Andrew Friedman, Learning Ally President and CEO. "We've made tremendous efforts to work with parents, students, teachers, and reading specialists to provide new services that meet their needs. Our newly transformed website, the Teacher Ally tool, the Parent Resource Center and other services have all resulted from listening carefully to our community."
About Learning Ally™
Founded in 1948 as Recording for the Blind, Learning Ally serves over 300,000 K-12, college and graduate students, as well as veterans and lifelong learners – all of whom cannot read standard print due to blindness, visual impairment, dyslexia, or other learning disabilities. Learning Ally's collection of more than 75,000 digitally recorded human-read textbooks and literature titles – featuring a heavy emphasis on STEM resources – is delivered through internet downloads, assistive technology devices, and mainstream devices like iPhone and iPad, and is the largest of its kind in the world. More than 5,000 volunteers across the U.S. help to record and process the educational materials, which students rely on to achieve academic and professional success. Learning Ally, a 501(c)3 nonprofit, is partially funded by grants from state and local education programs, and the generous contributions of individuals, foundations and corporations. For more information, visit http://www.LearningAlly.org.