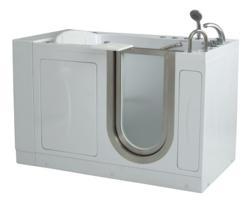 Now customers can customize the colors for safety grab bars to compliment their walk in bathtub or bathroom decor.
(PRWEB) November 20, 2012
Aging Safely Baths, a leader in providing walk in bathtubs and roll in showers to individuals who need safe bathing assistance, is pleased to offer custom colored grab bars that customers can match to their bathroom's decor and taste. Although traditional chrome colored grab bars are tasteful, they may not allow customers to express their individuality in the bathroom. Additionally, they may not be the color that accents other bathroom fixtures that will not be replaced. Thus, colored handicap grab bars enhance existing bathroom decorations, promote safety and provide customers with the opportunity to give their bathrooms a unified, polished appearance.
Concerned relatives do not want an elderly or mobility restricted relative slipping in the bathroom. Even if, a handicapped individual or senior lives in a home with a loved one, a bathroom is an area where a distress call may not be heard. The sound of gently running water in a shower or tub can often drown out cries for help. Therefore, walk in bathtubs that feature safety grab bars can enhance safe bathing, and can provide security that disabled or older individuals need to bathe alone.
Zach Wennstedt, "CEO of Aging Safely Baths, said, "Customers are purchasing hydrotherapy tubs to reduce inflammation or buying roll in showers to make independent bathing easier. However, they will also be looking at the interior and exterior of their bathroom fixture. Selecting the color of a grab bar can make purchasing a step in tub an enjoyable experience, and some colors may even increase grab bar visibility when customers are bathing."
The colored grab bars can change the mood of the bathroom decor because they can appear subdued, eye-catching or whimsical. Additionally, handicap grab bars can be made from different materials that contrast or blend with the bathroom fixture. Glow in the dark grab bars are also available for walk in bathtubs, and they can promote safe bathing because they are easy to view when customers have poorly lit bathrooms. Whether customers want a metallic color, a patterned grab bar or a specific color, Aging Safely can provide a grab bar that combines functionality and safety without sacrificing beauty.
Aging Safely's representatives will also examine photos of their customers' bathrooms to help select grab bar colors that coincide with the bathroom's ambiance or enhance a grab bar's visibility. The company's consultants can assist with matching grab bar colors to RAL, Tiger Drylac, Glidden, Kelly Moore and Sherwin Williams paint swatches, so customers feel confident about their selection and excited about accessorizing their walk in tub or roll in shower. Orders for custom color handicap grab bars can take between one and four weeks to arrive, but Aging Safely will ship even a single grab bar to Canada and throughout the United States.
Contact Information:
Phoebe Maor
1-888-779-BATH(2284)
info(at)agingsafelybaths(dot)com