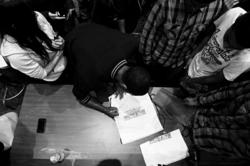 We encourage everyone around us to just Be Creative. This scholarship is truly an opportunity to give back and to encourage these students to explore their talents and share why they are inspired by music.
Kansas City, KS (PRWEB) November 20, 2012
It's not every day that a high school student gets to come into close contact with an internationally known musician; but in late October, two hundred music program students at J.C. Harmon High School in Kansas City, Kansas did just that. Harmon Alumnus, Bernard "BHarv" Harvey, who is currently touring with pop sensation Justin Bieber, paid a visit to his Alma Mater to roll out a scholarship opportunity, and to visit with the students as a way of showing thanks and investing in a community and in a school that motivated him at a young age.
As a Kansas City native, Harvey, who now resides between Atlanta and Los Angeles, spent years honing his skills by playing multiple instruments from the piano to bass guitar and learning how to write musical compositions. Today, along with owning HarvSquad Production, he has also produced for and worked with many internationally known artists such as Justin Bieber and Kandi Burruss.
During his visit to J.C. Harmon, Harvey and colleagues from HarvSquad, addressed students from the music program in an effort to inspire the youth to develop their musical talents at a collegiate level. An accomplished bass guitarist himself, Harvey shared what HarvSquad deems as "The 4 P's," which include: Knowing Your Purpose, Paying Your Dues, Passion versus Pennies, and Polishing Your Craft.
The college scholarship opportunity was rolled out in late October with an application deadline of Spring 2013. Eligible high school juniors and seniors currently enrolled at J.C. Harmon in the music program may apply for this scholarship by submitting a full application and video with a one-minute introduction stating, 'Why I am inspired by music' and a presentation of up to five minutes of their musical talent. Interested applicants can find more details by visiting http://www.harvsquad.com/book-scholarship
About HarvSquad Production
HarvSquad Production is a music production company headquartered in Atlanta, Georgia. Bernard "BHarv" Harvey, the company's Founder and CEO, is currently signed to Universal Music Publishing Group, Sheba Publishing and Scooter Braun Projects LLC.