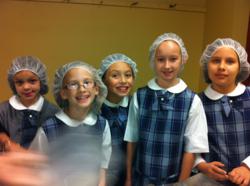 Lemont, IL (PRWEB) November 20, 2012
Third and fourth grade students from Everest Academy of Lemont packaged a year's worth of food for hungry children in Africa. As part of the ongoing apostolic service program at Everest, students put their faith into action by measuring, weighing, and wrapping freeze-dried food for severely malnourished children at the "Feed My Starving Children" Aurora location. "It was really fun to learn about these children in Africa and to know how you're helping them. It was also nice to know how thankful they are to receive the food," said Marino Ramirez of Lemont, third grader at Everest.
Students were first educated on the realities of hunger and starvation, including "learning how mothers in Haiti make mud pies to ward off hunger pains in their children," explained Everest teacher, Mrs. Elaine Fleck. The food preparations that the students packaged are sent to sites throughout the world, and when mixed with hot water, can provide a digestible nutritious porridge that is not normally available to starving children living in third world countries. "It was really exciting to know that each of us fed about one and a half children for a whole year, and to know that we were actually saving lives," exclaimed third grader John Beecher. Everest students had a chance to taste the porridge so they knew what they were packing and sending. "That was pretty cool!" said Jacob Spansail, third grader from La Grange Park.
Hands-on service projects engage Everest Academy students of each grade level in opportunities to develop compassion and a heart for serving others. Last month, all students from three year olds to eighth graders collected coats for the poor, while next month, Middle school students will participate in a Christmas Giving Tree program. Preschoolers and Kindergarteners work on projects that express appreciation to local community service workers, and second graders at Everest write letters of support to those in the military service. Dean of Students Molly Maher expressed the importance of the ongoing service programs at Everest, "The students become more aware of the needs of others, and they learn that they can change the world for the good."
Everest Academy is an independent Roman Catholic school in Lemont educating children from pre-kindergarten through eighth grade. The teachers and staff are dedicated to forming the whole child by providing the highest level of academics, by building strong character, and by preparing generous leaders ready to serve the community. To learn more about Everest Academy's approach to education, please contact Coleen Mast at 630-243-1995 or visit http://www.everestadvantage.org.