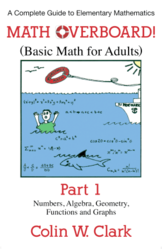 In addition to assisting students interested in more advanced, college-level courses, the book describes real-world uses for math skills.
Indianapolis (PRWEB) November 20, 2012
Those who break out into a sweat at the mere mention of quadratic equations or proportions can breathe a sigh of relief. A new book by a longtime mathematics professor breaks down basic math step by step, helping fill in any gaps in mathematical training. In addition to assisting students interested in more advanced, college-level courses, the book describes real-world uses for math in science, technology, finance and other fields.
"Math Overboard!" emphasizes both computational skills and comprehension of math. Its format allows for both reviewing all standard elementary math skills and honing specific topics. A diagnostic test to identify problem areas, together with review problems at the end of each chapter, further directs readers to ascertain which topics require more study. Topics range from basic addition, subtraction, multiplication and division, to scientific notation, proportions, speed and acceleration, algebra, Euclidean plane geometry and analytic geometry.
This comprehensive resource reveals math history and presents logical approaches to calculations with a sprinkle of humor, as well as tips for avoiding math errors. Extensive sample problems, review sections at the end of every chapter and a detailed index add up to an invaluable tool for learning the ins and outs of basic, school-level mathematics.
Author Colin Clark, professor emeritus of mathematics at the University of British Columbia, wishes his students had been able to use a book like this as they tried – and struggled – to grasp calculus after their previous math education. He also wrote "Mathematical Bioeconomics – The Mathematics of Conservation," and "Dynamic State-Variable Models in Ecology." He and his wife, Janet, live in a suburb of Vancouver, Canada.
----------
For additional information, please visit http://www.mathoverboard.com.
Math Overboard! (Basic Math for Adults) Part 1: Numbers, Algebra, Geometry, Functions and Graphs
Colin W. Clark
Dog Ear Publishing
ISBN: 978-1-4575-1481-4 444 pages $30.00 US
Available from the website (at a discount), and at Ingram, Amazon.com, Barnes & Noble and fine bookstores everywhere.
About Dog Ear Publishing, LLC
Dog Ear Publishing offers completely customized self-publishing services for independent authors. We provide cost-effective, fast, and highly profitable services to publish and distribute independently published books. Our book publishing and distribution services reach worldwide. Dog Ear authors retain all rights and complete creative control throughout the entire self-publishing process. Self-publishing services are available globally at http://www.dogearpublishing.net and from our offices in Indianapolis.
Dog Ear Publishing – self-publishing that actually makes sense.