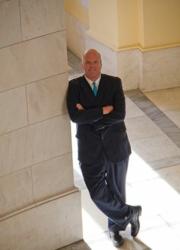 The percentage of obese adults and children have steadily risen and, in turn, increased obesity related diseases including coronary heart disease, stroke, high blood pressure, diabetes, as well as some cancers" Bill Couzens, Founder Less Cancer
Detroit, MI (PRWEB) November 22, 2012
Less Cancer, a Campaign Program of Next Generation Choices Foundation (NGCF), will host the first Move Detroit for Less Cancer Saturday, December 1, 2012 at Bayview Yacht Club, located at 100 Clairpointe Street at 7:30 P.M.
For nearly a decade, The Less Cancer Campaign of Next Generation Choices Foundation has been at the helm of building awareness for reduced incidences of cancer.
As an organization, they have been pioneers for introducing prevention to the cancer conversation and have worked to educate individuals, families and communities about reduced incidences of cancer and increased risks for both human health and the environment.
"Over the last two decades, the percentage of obese adults and children has steadily risen and, in turn, increased obesity-related diseases including coronary heart disease, stroke, high blood pressure, diabetes, as well as cancers of the breast, endometrium (the lining of the uterus), colon, kidney, and esophagus," says Less Cancer Founder, Bill Couzens. "This event will support Less Cancer's commitment to educate individuals, families and communities about healthy choices, and obesity as an increased risk for cancer." Couzens who was born in Detroit is a graduate of Wayne State University.
The evening will include a silent auction featuring unique luxuries such as: a weekend stay in New York City,a relaxing vacation cottage on Grand Bahama Island, a dress designed by Project Runway's Wendy Pepper, an Irish Cottage getaway. Among many other items, are an autographed book from television actress, the "Nanny", Fran Drescher, an autographed book by famed interior designer Barry Dixon, an autographed copy of the movie The Help by Sissy Spacek,autographed movies by Academy and Emmy Award(s) winning actor Robert Duvall and an autographed book by the best selling author John Grisham. There will also be an autographed book and photograph by Cody Award winning designer Barry Kieselstein -Cord in his book AWARDED. And Martha Fruehauf's photograph, "An Angel Among Us". Martha who hails from Detroit, Michigan is an acclaimed equestrian and photographer.
Less Cancer founder, Bill Couzens said "we are very fortunate to have Martha Fruehauf's photography for the silent auction. Martha's photograph, 'An Angel Among Us', has been a global social media attraction in over 30 countries and critical for getting Less Cancer the attention and support for this partnership for Move Detroit for Less Cancer. Martha is an unflappable work horse whose enterprising pioneering spirit has been instrumental for the launch of the Move Detroit for Less Cancer event."
Couzens, says that he is additionally grateful for the Move Detroit Less Cancer leadership Grace Piku and Beth Lowry whom have been the energy and brains behind this event. These ladies have not only been the legs on the ground but have been strategic in making this event happen.
Couzens continued that "while support for this event comes from across the country from people who know the Less Cancer work, this is a Detroit event and could never happen without its volunteer base." Volunteers include Detroiters Suzi Schaitberger Tobias, Pam Taylor-Yates, Jenny Lynn of Jackson Dawson, Larry Fisher of Chevy Chase Trust, and Less Cancer board member Miles O'Brien. We have had enormous support from Children's Hospital of Michigan Foundation's Susan Foley and Tiffani Langford and Kerrie Barno from Bayview Yacht Club.
Couzens add's "my niece, Whitney Couzens who recently lost her father to cancer actually had this idea for Move Detroit for Less Cancer. The younger Couzens said "the focus should be on preventing incidences of cancer - we need to do more than just want it but actually do something towards change."
Entertainment will be provided with performances by Kirk Lowry and the Strange Brew Band NC. Tickets will be available at the door for $25.00 each. Angel Sponsors are also available for $100 per person.
Proceeds from this event through Less Cancer and Children's Hospital of Michigan Foundation and the national Shape Down program, will help to fund programing that will aid children and families adopt healthy lifestyles. These resources will be used to purchase gym shoes and exercise equipment that will be tools for families to develop healthy habits and achieve fitness goals. It will also allow the Less Cancer work to continue to educate, advocate and participate for healthy choices and reduced health risk– a role Less Cancer has cornered across the web and social media.
The event is sponsored by Jackson Dawson, Clear Channel Radio, Chevy Chase Trust, Children's Hospital of Michigan Foundation and Copilevitz-Canter, LLC.
To make a commitment to the future health and safety of our children, sponsorship opportunities are still available. For more information please visit the Less Cancer website at lesscancer.org or call Less Cancer at 540-270-4587.
Less Cancer is a campaign-program of Next Generation Choices Foundation a 501c3.