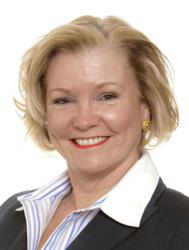 Debbie has an impressive grasp of the intricacies of marketing automation and the impact it makes on marketing in a B2B company," said Ronald L. Hess Jr., Associate Professor of Marketing, Mason School of Business College of William & Mary.
Atlanta, GA (PRWEB) November 20, 2012
Debbie Qaqish, principal partner and chief revenue marketing officer of The Pedowitz Group(TPG), recently addressed MBA students at the Mason School of Business at the College of William & Mary about marketing's revenue responsibility. This is the third consecutive year Debbie has been invited to share her insights with these aspiring students.
Jim Kanir, SVP of Sales and Marketing at Billtrust (a TPG client), and Jason Long, revenue engineer at TPG, also participated in the session. Debbie presented a working definition, a framework and new data from several key industry reports that supported the need for the B2B marketing organization to transform from being a cost center to a revenue center. Jim, a serial Revenue Marketer, presented a live case study on the benefits of Revenue Marketing including key revenue results and a live look at a recent board presentation. Listen to Jim's presentation here.
Jason Long ended the session by taking the students on a tour of a live marketing automation system using data provided by several of the students.
"I cannot think of a more valuable addition to our course than Debbie's session," said Ronald L. Hess Jr., Associate Professor of Marketing, Mason School of Business, College of William & Mary. "She has a very impressive grasp of the intricacies of marketing automation and the impact it makes on how marketing works in a B2B company. I have had many speakers from business visit my MBA course over the past 10 years and none are on par with Debbie Qaqish. From the quality of the delivery to the extraordinary content -- this session was outstanding. Many thanks to Debbie for supporting the College of William & Mary."
"Kudos to Ron Hess and the College of William & Mary for having the foresight to offer this class," said Debbie. "Revenue Marketing for the B2B marketer is still not part of the marketing curriculum in most colleges. As a result, marketing students are graduating with little knowledge of CRM, marketing automation and other key technologies that shape the role of marketing in driving repeatable, predictable and scalable revenue performance."
The agenda for the four-hour session was created by Debbie and Ron and was designed to introduce the MBA class to how B2B marketers are now responsible directly for impacting revenue. "I have seen companies struggle with how to use digital data successfully," said MBA candidate, Margo Wheeler. "Debbie's integrated Revenue Marketing approach incorporates both marketing automation and CRM. It takes marketing to a more strategic level that ensures smarter decisions and increased revenue contributions."
About The Pedowitz Group – Connecting Marketing to Revenue™
The Pedowitz Group, an Inc. 500 company, is the world's largest full-service Revenue Marketing Agency. A two time Pacesetter winner, The Pedowitz Group helps global clients transform their marketing organizations from cost centers to revenue centers by assessing and optimizing six controls: strategy, people, process, technology, content and results. As the authority on Revenue Marketing Transformation™, the company has helped over 1000 clients begin the journey to driving predictable, repeatable and scalable revenue results. The Pedowitz Group customers have won over 20 nationally recognized awards for their Revenue Marketing excellence. For more information on how The Pedowitz Group helps clients become successful Revenue Marketers®, visit http://www.pedowitzgroup.com or call us at855-REV-MKTG or visit blog.pedowitzgroup.com.