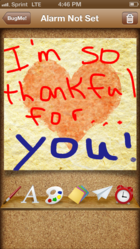 Use BugMe! notes to share what you are most thankful for by posting your notes to Instagram and Twitter. The best notes will win iTunes gift cards.
Wye Valley, UK (PRWEB) November 20, 2012
BugMe!, the popular "sticky note" and reminder application, now enables iPhone, iPad and Android users to jot quick notes in their own handwriting and share them on Instagram. BugMe!, which has been putting the utility and simplicity of the common sticky pad onto the screens of mobile devices since the late 90s, also enables users to share their notes on Facebook, Twitter, or by email.
To celebrate the new Instagram feature, as well as the US Thanksgiving holiday, Electric Pocket is conducting a contest. Users of either the free or "Pro" versions of BugMe! should use their BugMe! notes to share the things in their lives they are thankful for. Notes shared on Instagram or Twitter that include the hashtag "#bugmeapp" in their post will be automatically registered for a chance to win US$25 or US$10 gift cards. The company will select the winners based on presentation and creativity. The contest will run through November 25.
With BugMe!, iPhone, iPad and Android users simply use their finger or keyboard to capture quick ink or text notes. One creative way to create a winning entry in the contest is to use the device's camera to take a picture of the people or objects you are thankful for and then handwrite a sentimental note of thanks on top of the picture.
The app also connects to BugMe!'s own paper store, offering a wide selection of colorful, practical and fun note styles -- from task templates, messages, stickers and unusual paper styles. The Pro version of BugMe!, available for only $.99, comes complete with a useful selection of notepad styles to make it easy to create and organize notes for all occasions.
While sharing BugMe! notes is a personal way to express thoughts in your own handwriting, its core utility is to serve as a personal reminder system. Each note can be assigned an alarm which will sound off at just the moment the user needs to be bugged. A favorite feature with BugMe! users is the ability to quickly choose alarm times from a pick list of time intervals – for example 20 minutes or "in an hour". This makes the application very effective for informal, lightweight reminders, such as watching a TV show, returning a phone call, or plugging a parking meter.
BugMe! notes can be organized in any number of custom ways on a bulletin board, and the app offers a Widget providing quick access to the user's assortment of notes from the device's home screen. Alerts can also be personalized by enabling users to choose which ringtone to use.
BugMe! is available in the App Store and Google Play Store. More information can be found at http://bugme.net
About Electric Pocket Limited
Electric Pocket has been developing mobile applications and solutions for over 15 years from its base in South Wales, UK. The company's award winning product portfolio includes apps for iPhone, Android and BlackBerry. Electric Pocket provides engineering jump-start and consultancy services for companies looking to deliver great mobile products. Samsung, Sony and Vodafone are a few of EP's top flight clients. For more information, visit http://www.electricpocket.com.