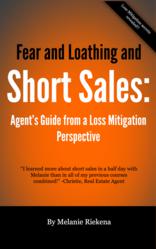 It's never been more important for real estate agents to grasp these learnable skills.
Nashville, TN (PRWEB) November 20, 2012
"Fear and Loathing and Short Sales," launches today on Amazon.com, bringing a wealth of understanding and instruction to real estate professionals seeking to gain a working knowledge of the short sale process to better help their clients. Written by short sale expert Melanie Riekena, "Fear and Loathing and Short Sales" is meant to be a user-friendly manual that de-mystifies one of the industry's most important processes. The book is available as a free Kindle download through Amazon.com today through Saturday, November 24.
Short sales, long considered a source of trouble among many real estate agents, is an integral part of the industry. Widespread misunderstanding and inadequate training have kept many real estate professionals from adding it to their portfolio of services. Riekena hopes to clarify the process through her book.
According to Riekena, the more capable the real estate agent is when it comes to negotiating mortgage settlements, the better he or she can best serve their clients, and experience the much higher profits and increased market share they deserve.
"I wrote this book to help real estate agents understand and approach short sales in a way that makes them successful doing them. When properly understood, they really aren't as daunting as some industry professionals might expect," Riekena says. "By 'niche-ing' themselves to assist with short sales, they will experience almost instant elevation in their desirability and profits.
"Fear and Loathing and the Short Sale" is written in a conversational tone that incorporates anecdotes and common-sense answers to questions surrounding the short sale process. Riekena aims to clear up the bewildering short sale process and encourage real estate agents to reject any preconceived notion that negotiating mortgage settlements is beyond the scope of their licenses.
For almost 20 years, Riekena and a team of professionals have helped thousands of clients settle defaulted or imminently defaulting home loans, earning herself a reputation as a master of the short sale. And although she enjoyed her success and accomplishments as one of a small percentage of real estate pros with the knowledge and experience to work in this under-served sub-market, Riekena was frustrated to find so many colleagues intimidated by short sales practices.
"I have wanted to write this book for a long time so I could share my knowledge in a way that would put their fears to rest," she says. "I see a sincere concern and desire on the part of many real estate agents to assist the public who so desperately need their help.
"Due to a lack of input from the field of Loss Mitigation and Default Servicing, real estate agent training often omitted entire short sale subject matter that is critical to the agent's success."
Riekena's book offers down-earth advice, written with the loss mitigation perspective that is missing in today's real estate industry. Her observations of short sales practices in the U.S. have resulted in a common-sense manual for realtors wishing to master this skill.
"In order to be successful and offer the highest level of service, agents have to learn new skills and adopt new ways of operating within the industry at a time when so many families are struggling financially," Riekena says. "Since the housing crash began in 2008, followed by epidemic levels of foreclosures, the real estate and finance industries have faced unprecedented demands to work together, where historically such collaboration was virtually non-existent.
"Because of this, the unofficial short sale success rate is – at best - only 28 percent and some estimates have been as low as one-in-twenty, or 5% that succeed."
Short sales are associated with extra work, elevated risk of failure, and reduced pay on many of the transactions that close successfully; hence the nationwide "fear and loathing" they provoke, according to Riekena.
"Fear and Loathing and the Short Sale" is Riekena's contribution to the short sale "conversation", something she says she wanted to leave for real estate agents who are referring business away, and for consumers who need their agents to be highly qualified to do short sales.
"It's never been more important for real estate agents to grasp these learnable skills, and they have to start by rejecting the idea that short sales and a high rate of failure must unavoidably go hand in hand," she says.
"Fear and Loathing and the Short Sale" will remain available as a free Amazon.com Kindle download through November 24.
For more information, or to download the book to Kindle, go to Amazon.com/ Fear-Loathing-Short-Sales-ebook, or visit the "Fear and Loathing and Short Sales" Facebook page.
###