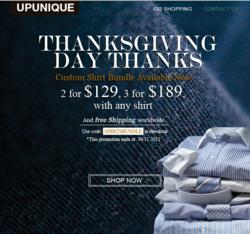 (PRWEB) November 21, 2012
Recently, UPUNIQUE, a brand of fashionable custom garments for men, has launched a custom shirt promotion, UPUNIQUE Thanksgiving Sale, from Nov. 20 to Nov. 30, 2012, in which all online customers can buy any two custom shirts at $129, and any three at $189.
According to Leo Phang, CEO of UPUNIQUE, all the custom shirts in this promotion campaign feature several characteristics: top-grade fabrics, exquisite designs, fashionable styles, rich choices, fine tailoring, meticulous production and fast delivery services. Each UPUNIQUE's custom shirt is a piece of art, and it is easy to see its high-end and taste.
UPUNIQUE allows its clients to obtain customized and personalized cotton shirts easily, and it is offering more than 100 different styles of custom shirts on its website.
Leo Phang said, "Thanksgiving and the holiday season are coming, and it is a great time for most businesses. There is no exemption for us. Our custom shirts are designed by our own designer team, and must be the most shining stars in the dress industry in the end of 2012."
"This is definitely not a shirt you can buy at the supermarket," says Leo Phang, "By combing the power of technology and fashion, UPUNIQUE has developed custom menswear to be an exceptionally simple matter. With UPUNIQUE custom menswear, your personalized custom charm will shine with new vitalities in the internet era." continued, Leo Phang.
Unlike women's enthusiasm for fashion dress, for men, custom suits are synonymous with status and taste. A lot of professional resources and operating experiences and rich body measurement database can explain why UPUNIQUE custom menswear is widely popular.
About UPUNIQUE
UPUNIQUE, located in the oriental fashion capital Shanghai, is a brand specialized in tailored suits on the European and American middle and high-end markets. UPUNIQUE aims to provide 100% fit commitment, 30-day unconditional refund and 80-dollar free dress alternation.