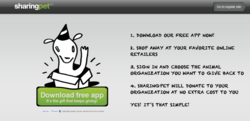 We see a market where, in 2011, users were spending 194 billion dollars online, and at the same time, the funds for animal rescue organizations have been decreasing dramatically since 2010
San Francisco, CA (PRWEB) November 20, 2012
The first virtual adoption platform for homeless animals, releases the Buy & Give application this holiday season. As an extension of your web browser (Chrome / Firefox / Internet Explorer), the program makes donating to your favorite animal rescue as easy as clicking a mouse. The platform is an entirely new approach towards supporting rescue organizations, where shoppers can help pets in need and shop online in one step.
Busy shoppers turn increasingly to online retailers, and affiliate programs have become more common. Yet many animal rescue groups have been experiencing declining financial support. This gave Luis Cifuentes, Sharingpet's founder, the idea for the Buy & Give application. Said Cifuentes, "We see a market where, in 2011, users were spending 194 billion dollars online, and at the same time, the funds for animal rescue organizations have been decreasing dramatically since 2010."
To assist those organizations in need of funding, Sharingpet developed the Buy & Give application, which lets shoppers give back to animal rescue organizations just by making online purchases, and without spending an extra dime. Conscientious shoppers simply download the Buy & Give App and shop at their favorite online retailers. Then they choose the animal rescue organization they'd like to support at Sharingpet's website, and the app will track all their purchases and make a donation on their behalf.
Sharingpet already has thousands of retail partners, and the number is continuing to grow. All donations are funded by affiliate programs with these online retailers. Rather than pocketing the extra cash, Sharingpet allows shoppers to give it back to the animal rescue community by selecting their favorite organizations. Thus, it's an incredibly easy way to donate.
Sharingpet's Chief Marketing Officer and Partner, Dr. Joseph Manda, says, " The new Buy & Give app means conscientious pet lovers no longer have to choose between shopping for their favorite items and donating to their favorite causes. They can do both - at the same time."
About Sharingpet
Launched in 2011, San Francisco-based Sharingpet provides an innovative way to raise, collect, and pool money for animal rescue organizations and abandoned pets. It's a simple-to-use platform where organizations and their volunteers can increase their adoptions and utilize new sources of funding, using social media and technology to help animals.
Sharingpet empowers users to become active participants and a part of the solution to help a greater number of homeless pets find their forever homes, by growing a community to buy consciously every day.
The platform has achieved more than 2,000 partnerships with online retailers, which give back to animal organizations, and more than 11,000 nonprofits, through which users can virtually adopt and fundraise for thousands of animals in need.
Funded by entrepreneur Luis Cifuentes and supported by Spanish nonprofit bip-bip foundation