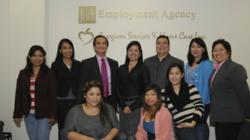 "Caring for Life"
Los Angeles, CA (PRWEB) November 20, 2012
Caregiver Services and Senior Care Living http://www.mycaregiverservices.com firmed up its healthcare alliances with the whole senior community and healthcare professionals in the entire Southern California region. Over the past 10 years, Caregiver Services have helped hundreds of seniors wanting to stay home and be accorded in-home care service which greatly improved their daily lifestyle. With thousands of caregiver applicants for the past years, the company have accumulated substantial data base of highly qualified caregivers, CNA's and home health aides that are a dependable match to the senior cases handled. Under the new division, Caregiver Services and Senior Care Living, the organization now offers free referral service and assistance to any seniors looking for senior retirement facilities that best fit their needs. Senior population for year 2010 is 40.3 million which accounts for 13% of the population and it is expected to grow to 88.5 million by year 2050, which would comprise 20 % of the total population at that time. Approximately 7.6 million individuals currently receive care from 17,000 home care providers because of acute illness, long-term health conditions, permanent disability, or terminal illness. In 2007, annual expenditures for home health care were projected to be $57.6 billion.
More and more seniors will be needing healthcare solutions and family members can look at these warning signs that their parents may need help: forgetfulness, unable to take medications as prescribed, confusion, difficulty with walking, bruises, unhygienic condition, loss of weight and appetite, unusual mood swings, untidy house , important appointments missed, unsettled bills and late payment bills, depression, loss of interest in social activities, dents and scratches in car and early signs of dementia or Alzheimer's disease. Whatever the underlying problem the senior is experiencing, Caregiver Services and Senior Care Living under Caregiver Services & Home Care Inc. can help them both with in-home care service or free referral to any senior retirement facility they may select from its allied partners. A reputable allied partner Agoura Hills Senior Retreat, a senior living community conveniently located at the gateway to pristine Old Agoura horse country, with state-of-the-art facility offering elders all the advantages of a secure, satisfying and active lifestyle, guaranteed with experienced, caring, and attentive staff that understand the quality of life should improve with maturity.