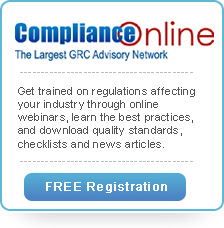 San Diego, CA (PRWEB) November 22, 2012
ComplianceOnline, the leading governance, risk and compliance advisory network with over 500 experts in various regulatory subjects, today announced a seminar on Statistical Considerations for ICH Guidelines. The two day longer seminar by respected regulatory affairs expert Steven Walfish will be held on January 24 and 25, 2013 in San Diego, CA.
Despite having procedures and programs, many organizations fall short in implementation of the tools and techniques used to apply the appropriate statistical tools in ICH guidelines. This two day seminar will explore the major aspects of the statistical methods and discover how external authorities expect organizations to meet these guidelines.
For more information or to register for the seminar, please click here.
Seminar instructor Steven Walfish is the president of Statistical Outsourcing Services, a consulting company that provides statistical analysis and training to FDA regulated industries. Mr. Walfish brings over 20 years of industrial expertise in the development and application of statistical methods for solving complex business issues including data collection, analysis and reporting. Mr. Walfish was the Senior Manager Biostatistics, Non-clinical at Human Genome Sciences in Rockville MD.
During the two day interactive seminar Mr. Walfish will focus on how to apply statistics to the ten ICH Quality guidelines. The course will deliver tools, templates and insight that will allow participants to immediately begin implementation within their organization/firm. The seminar will help the attendees to learn how to perform regression analysis, the difference between confidence intervals and tolerance intervals, calculate the appropriate sample size and probability of risk, perform process characterization for design space and see how FDA requirements compare with ICH guidelines.
The seminar will be beneficial for development, quality and research scientists from regulated industries including quality managers, assay development scientists, quality analysts, research scientists and risk managers.
Date: Thursday, January 24 and Friday, January 25, 2013, 8AM- 4 PM PST
Location: San Diego, CA
Registration Cost: $1,199per registration
Early bird discounts: For discounts on early registrations, please click here .
Register by phone: Please call our customer service specialists at +1-650-620-3937 or email to customercare(at)complianceonline(dot)com
For more information on ComplianceOnline or to browse through our trainings, please visit our website.
About ComplianceOnline
ComplianceOnline is a leading provider of regulatory/compliance trainings for companies and professionals in regulated industries. ComplianceOnline has successfully trained over 20,000 professionals from 3,000 companies to comply with the requirements of regulatory agencies. ComplianceOnline is headquartered in Palo Alto, California and can be reached at http://www.complianceonline.com.
For more information please contact:
A Reuben Bernard
Manager of Program Marketing
ComplianceOnline
2600 E Bayshore Rd
Palo Alto CA USA 94303
650-620-3937 phone
650-963-2530 fax
reuben(at)complianceonline(dot)com