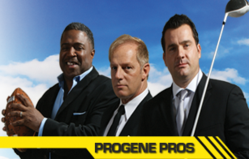 Men should NOT have to tough it out and accept the painful changes related to aging," said Michael Lee of Progene. "Men can't help getting older, but they don't have to get 'old'!
Cincinnati, OH (PRWEB) November 21, 2012
Celebrate more savings and more energy this holiday season with Progene -- a leading, all-natural testosterone supplement sold nationwide. There's no reason why aging and lower testosterone levels should limit the holidays. Make the most of this year's festivities and enjoy them with higher testosterone levels.
Testosterone is a naturally occurring sex hormone that not only regulates sex drive, bone mass, fat distribution, muscle mass and strength, but also controls the production of red blood cells and sperm. Testosterone peaks during the teens/early twenties, and declines 1-2% every single year thereafter during a man's life. That's a loss of 25-50% of testosterone by age 45! Can something be done about this? With Progene®, the answer is yes!
"Men should NOT have to tough it out and accept the painful changes related to aging," said Michael Lee of Progene. "Men can't help getting older, but they don't have to get 'old'."
Progene® helps restore testosterone levels with a special dual action formula that contains clinically proven testosterone precursors and rare herbal extracts shown to support the body's natural production of testosterone. Higher testosterone levels mean healthier and happier men.
How are levels measured? Easily and painlessly, thanks to Progene®'s new at-home Testosterone Test Kit. The exclusive Progene® Testosterone Test Kit is that simple: No blood. No needles. Just spit, seal samples in a pre-paid mailer, and in 5-7 days review results. Compared to a doctor's office visit, the at-home tests are more convenient and a fraction of the cost. For men, this is an opportunity to measure levels and to restore Power, Performance and Passion®, just in time for the holidays!
Take advantage of this special holiday offer with Progene. Measure your levels with a Testosterone Test and see what Progene can do… for FREE!

Order online at http://www.Progene.com
Enter coupon code: Thanksgiving12
After receiving your purchase, send a copy of the receipt (proof of payment) and the UPCs of each item or in the case of Testosterone Test Kits, the extra Test Kit barcode with a self-addressed, stamped envelope to: Progene Midwest Distribution Center, 544 West Liberty St, Cincinnati, Ohio 45214
A rebate of up to $100 of your total purchase will be sent in 6-8 weeks
This mfg. rebate only applies to product purchased online at Progene.com. This mfg. rebate and does not apply to retail/in-store purchases, any taxes or shipping and handling fees. All rebated/free product is obviously non-refundable. Rebates will only be provided for qualifying purchases and correct rebate submissions. Progene is not responsible for lost, misaddressed or incorrect rebate submissions. This special rebate expires on 12/1/12. Limited quantities available.
About Progene:
Founded in 2003, Progene® began its lead in this market nearly ten years ago, when the company released the original supplement to address the decline of testosterone levels in men over thirty. With over 20 million tablets sold, Progene®'s dual-action formula of rare herbal extracts and clinically proven testosterone precursors, supplies men with the ingredients needed to produce more testosterone.
Expanding its services with the recent launch of Progene's At-Home Testosterone Test Kit, men now can actually see for themselves what Progene® can do to help restore their Power, Performance & Passion®. Progene® is currently sold nationwide at all GNC Stores, RiteAid, USADrug, Drugstore.com, Sears.com, Harris Teeter Groceries, Brookshire's Food & Drug and more than 150 other local and regional retailers.
For more information about Progene®, go to http://www.Progene.com.