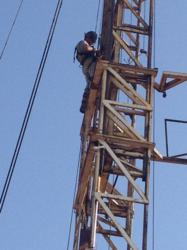 A recession proof industry taking full advantage of todays technology is a smart place for an investment; especially when it employs good Americans and makes us less dependent on those out to harm us. God Bless America!
Abilene, Texas (PRWEB) November 21, 2012
Nick's Oil & Gas "NOG" announces the plans to drill five wells by the end of 2013 which have the potential of producing more than 494,000 barrels of oil collectively amounting to more than $39 million in revenue at $80 per barrel.
Three of the wells will be drilled to depths near 1900 feet vertically which will be located in Haskell County Texas. The plan also calls to drill two wells to an estimated 5200 feet vertically in Jones County. The Haskell County wells have the should produce an estimated 32,000 barrels of oil each from the primary zone. These wells will encounter multiple untested formations which are known to produce from surrounding leases that ultimately may contribute to the bottom line.
The Jones County Texas wells each have the potential of producing as much as 199,406 barrels of oil. The Jones County wells in fact, have the possibility of producing more than the volumetric formula projection above when considering the several productive secondary zones in the field.
Jones and Haskell Counties are along the Eastern Shelf of the Great Permian Basin. The Eastern Shelf has a unique feature of multiple pay zones, as oil bearing formations drape over each other from the Western lying Permian and the Eastern lying Fort Worth Basin. These multiple pay zones along the Eastern Shelf stack up under the earths surface like a layer cake, greatly reducing exploration risk. The Eastern Shelf has recently realized a significant "Boom" in drilling activity with one of the nations newest plays in the Cline Shale presently being located in Nolan, Fisher and Scurry counties of Texas, directly west of Jones County.
Thinner sections of this Cline Shale are present in our Jones County wells. Incidentally, we have identified an EOG Resources lease not far away from our acreage to the Southwest in Jones County which averaged more than 1400 barrels of oil per day for the month of December 2011. Additionally, a Chesapeake Energy Lease that more than 800 mcf of gas daily to the nearby Northwest in Jones County.