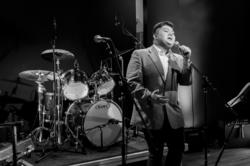 It's a fantastic new facility and one we are sure will be well used for many years to come
Gillingham, Kent, UK (PRWEB UK) 20 November 2012
Chart-toppers of the future will receive a head start at MidKent College following the launch of a new state-of-the-art live room.
The soundproof facility will give talented Music students the opportunity to practice in private while their Music Technology counterparts use the latest high-tech equipment to ensure the quality of the performances shine through.
Sevenoaks musician and former MidKent College lecturer Dan Clews – who performed alongside Tim Minchin as part of last Friday's Children in Need programme on BBC One – officially opened the live room in front of an audience of invited guests last Thursday (15 November).
He said: "The UK is the second largest music exporter in the world behind America, and it's very important we continue to invest in the future of the industry.
"I came across some very talented musicians during my time at the College and it's great they now have a room of exceptional quality to practice that talent in."
The live room was launched during national Colleges Week (12-18 November) – a national initiative that seeks to raise awareness of the vital role colleges play in improving people's chances of getting into work and helping businesses grow.
Louise Molton, head of the Creative & Visual Arts faculty at MidKent College's Medway Campus, said the new facility had been well received by students.
She added: "This room gives the musicians their own self-contained area to perform in, and will really help raise their performance levels.
"But it's not just Music students who will benefit. Our Performing Arts students can also use the room, and our Creative Media students can film the various events that go on here.
"It really is a fantastic new facility and one we are sure will be well used for many years to come."
In addition to the live room, the Medway Campus' Music facilities also include a sequencing lab and digital and analogue recording studios.
Click here for more information.