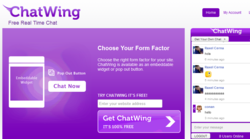 Cambridge, MA (PRWEB) November 20, 2012
Chatwing Development Team has recently emphasized the importance of online entrepreneurship in its latest chat widget. Chatwing's new chat app focuses on global connectivity, user access, and the power of social media leverage. The Chatwing chatroom app can be installed to any website or blog—it also has the potential to increase website visibility by a high percentage. Moreover, the Chatwing chatroom also allows a user to expand his social networks.
The free chat box offered by Chatwing now focuses on user customization and accessibility. Aside from Chatwing's default purple theme, users can now select different colors; the Chatwing team has noted that popular colors are red, black, blue, orange, and green. Any color and combination is possible. Online entrepreneurs can benefit from this shoutbox customization feature because they can now design a chatroom that can fit their websites perfectly. Additionally, the Chatwing chatroom offers global connection advantage in just seconds.
Chatwing's free chatbox allows online entrepreneurs to build leads. With the advent of the Internet, this may seem an easy task, but competition rises over time. Chatwing's free chatroom eases up the scale of competition by transforming a portion of the website into a useful chatting lounge. Now, visitors can gather and discuss about the latest topics in the website. Online entrepreneurship will now become a lot easier with the help of Chatwing chatroom's communication function.
The Chatwing Development Team is always prepared for dynamic changes in online competition. To help online entrepreneurs cope with these changes, the Chatwing team will create more innovations for the chatbox. In this way, the premise of website chat will become better and many people can use the Chatwing chatroom easily.
About Chatwing.com
Chatwing.com specializes in the new field of website chat. Over years, the Chatwing team has introduced live chat widget for hundreds and thousands of blogs. The Chatwing application bridges people from many parts of the world, creating global synergy through the Internet. The shout box can be installed in just seconds, and it can be used for varying purposes such as leisure and Internet marketing. It also allows a user to customize the size, color, and name of the widget. Chatwing is 100% free for everyone.