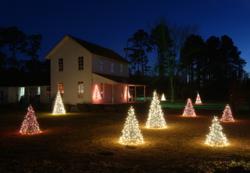 "This season we expect to exceed 50% of last year's production- over 16,000 hand crafted trees."
Smyrna, NC (PRWEB) November 21, 2012
Crab Pot Trees® are not a household name yet, but are well on their way to making their presence well known across the United States according to Don Acree, President of Fisherman Creations, Inc.; which produces them in the tiny fishing village of Smyrna, NC. "This season we expect to exceed 50% of last year's production- over 16,000 hand crafted trees." Acree said. That's a meaningful jump in sales from the 2,000 trees that went out of the door before they began approaching dealers outside of the 100 mile radius of customers serviced back in 2008.
And, a growth in sales for this small-town USA manufacturer means more than just an increase in the bottom line. The company employs local workers – fishermen, their wives, hunters, and landscapers during the off-season, who each carefully craft trees one-by-one, and by hand. The more trees that are sold means more hours employees can work to earn more pay – which also means that the company has to hire more local workers to create the Christmas Decorations. Since 2008 Fishermen Creations has continually expanded it's workforce.
Now at retailers in over 40 states, the delightfully unique decorations are also carried by online retailers such as Amazon, SharperImage.com, and Improvementscatalog.com.
The company makes a pre-lit Christmas tree from salt water tested , PVC coated , crab trap wire. Each tree leaves the "shop" folded flat in a small triangular box and expands to more than 10 times it's size. When the Christmas Season is over, it can be easily folded back and placed into the box for compact storage- a unique and patented feature that has also contributed to its success.
The patent is owned by the tree's creator, Neal " Nicky" Harvey, living just down the road from the shop in Davis, NC. As a crab trap maker himself, Harvey saw the decline of the U.S. crabbing industry as a result of the influx of unregulated cheap imports , combined with increasingly stringent government regulations on U.S. crabbers. He first set out to make a weatherproof Christmas tree. Then he had the idea to make it collapsible. That's when he approached the U.S. Patent Office and ultimately received his utility patent.
In early 2009, Mr. Harvey licensed the manufacturing and distribution rights to Fisherman Creations . The rest is an American success story waiting to be played out. The Christmas market is $450 billion. "We'd settle for just 1/10th of 1% of the market", Acree said.
"That's just $45 million, but to get there it will take a lot more people, financial investment, and a lot of very hard work from everyone on our team."
Found at local retailers ,the closest dealer of Crab Pot Trees® can be found at http://www.CrabPotTrees.com