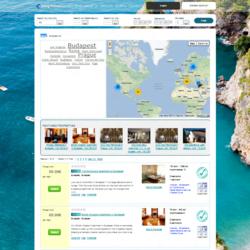 OMG.TRAVEL
Vacation Rentals
BOOK ONLINE - two clicks and done!
Los Angeles, California (PRWEB) November 21, 2012
OMG.TRAVEL now offers vacation rentals in Los Angeles and in many more US cities.
Their slogan is "Spend more time on your vacation then planning your vacation!" OMG.TRAVEL gives you a quick access to vacation rentals worldwide. Gone are the days when travelers needed to send inquiries, had to wait for answers and needed to negotiate with property owners for weeks. Travelers are now able to book holiday homes and furnished apartment online in real time. Those who look for vacation rentals in Miami for instance can pay the property owner directly with a credit card or PayPal. The booking engine generates reminders for the property owners about upcoming payments and check-ins.
Customers can find great deals on a family vacation. OMG.TRAVEL has incredible vacation rental deals, discounts, and savings that will make a family's trip affordable and fun. A vacation rental is always a better choice than a hotel when people travel in groups or with a family. A furnished apartment offers a kitchen, living room, sofa beds and several bathrooms and bedrooms for the price of a usual hotel room.
Step outside of the box! Hotels count on the fact that their heightened brand recognition, familiar check-in/check-out procedures and on-site staff will provide a comfort zone for travelers that is hard to step out of. For a traveler, booking a vacation rental is often outside of that perceived comfort zone. Familiar can often be limiting, however.
Many think that vacation rentals are usually just basic budget studios. With OMG.TRAVEL, even the smallest and least expensive studios have something interesting and charming about them. Think vacation rentals are always just apartments? Travelers can even find expansive villas, perhaps even on a private island, with a full staff to serve their needs.
The perceived negatives often associated with vacation rentals include having to communicate directly with a private property owner, a feeling of not being familiar with what the property offers, lack of on-site staff and concerns about quality and cleanliness.
OMG.TRAVEL is a rental agency that not only lists private vacation properties for the owner but makes sure that none of these issues will ever be a concern for their clients. OMG.TRAVEL proudly offers many of the same services often associated with hotel chains. Easy check-in, 24-hour maintenance on call, private housekeeping services and a concierge service are all part of the OMG.TRAVEL experience.
The benefits of OMG.TRAVEL far outweigh any potential negatives. These properties often offer more space and more privacy, with many properties having multiple bedrooms and bathrooms, separate living areas and amenities such as fully equipped kitchens, fireplaces and even private hot tubs. All this for a cost usually much lower than a hotel offering the same features.
With vacation rentals, you have many locations to choose from. Finding a comfortable home-away-from-home close to where a traveler wants to be is much easier. OMG TRAVEL works with owners who know the value of having their properties on the beach, near historical centers or cultural districts.
Be sure to check out OMG.TRAVEL's newest city and book a vacation rental in Prague!