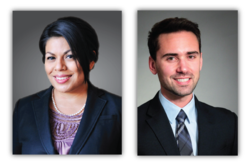 Glen Burnie, MD (PRWEB) November 20, 2012
The FDAImports.com team has added two new attorneys to its staff, expanding its team of affiliated regulatory attorneys.
Ryan M. Fournier, Esq., Associate Attorney
Mr. Fournier practices in the area of Food and Drug Law. He previously completed a summer position with the firm before joining as Associate Attorney. While in law school, Mr. Fournier served as a Senior Editor on the International Law Review and participated on the Willem C. Vis International Commercial Arbitration Moot Court Team, receiving an Honorable Mention in Hong Kong, China. Additionally, he studied numerous international law topics in Beijing, China and Rome, Italy with guest lecturer Supreme Court Justice Ruth Bader Ginsburg. He also served as a Constitutional Law Tutor for Professor John E. Nowak, author of the Nowak and Rotunda Constitutional Law Treatise. Mr. Fournier works from the firm's International Corporate Headquarters in Maryland.
Celeste Del Rio-Kasper, Esq., Associate Attorney
Ms. Del Rio-Kasper practices in the area of food, drug and cosmetics law. Before joining the firm, Ms. Del Rio-Kasper worked in various law firms practicing in Immigration & Nationality Law, and in Civil Litigation. While in law school, Ms. Del Rio-Kasper served as president of the International Law Society, was a member of the St. Thomas More Honor Society, and was a summer associate at Holland & Knight, LLP, in Los Angeles. Ms. Del Rio-Kasper was also a Loyola Public Interest Scholar on full scholarship at Loyola Law School – Los Angeles, and served as an Editor of the inaugural issue of the Los Angeles Public Interest Law Journal. Ms. Del Rio-Kasper works from the firm's Irvine, California office.
About FDAImports.com
FDAImports.com is an FDA consulting firm helping U.S. and foreign companies navigate through and meet complex FDA regulations for marketing and importing foods, dietary supplements, drugs, cosmetics and medical devices. Benjamin L. England, Founder and CEO, is a former 17-year veteran of the FDA and served as the Regulatory Counsel to the Associate Commissioner for Regulatory Affairs. Contact: Jon Barnes, (410) 220-2800 or pr(at)fdaimports.com.