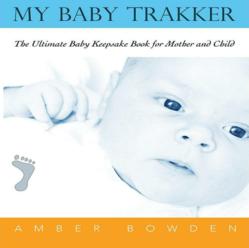 With all the baby books on the market these days, you almost need two or three of them to record everything, that's why I created Baby Trakker. I wanted one baby book that had a place for it all.
(PRWEB) November 21, 2012
Having a baby is one of life's most exciting times. What started as just a reflection of love turns into a wonderful little life. As a new expectant mother, there's so much to learn and so many things to take into consideration. The early weeks of pregnancy are crutial in a baby's development and and having every tool at your fingertips is a necessity. Introducing My Baby Trakker, the ultimate baby book by MedTrakker, an extensive personal record keeping system to keep track of all pre-natal records, test dates, ultrasounds, appointments, comments from the doctor, etc.
This baby book includes a pre-natal introduction; which defines all the tests that will be done during pregnancy followed up with a section to record test dates and results from the beginning of pregnancy all the way through delivery. Record all the information needed about family medical histories, past pregnancy histories, etc. In addition, My Baby Trakker provides a pregnancy risk assessment that can be taken to a physician to gather information in the first trimester (the most critical time) for determining if there's a risk for developing complications during pregnancy.
"Although I was excited to find out I was pregnant, I was overwhelmed with all the things I had to keep track of and monitor, that's when I decided to create My Baby Trakker to help empower other mothers-to-be to have all the information they needed in one place during their pregnancy." said Author Amber Bowden.
Keeping clear concise records will offer a little peace of mind in knowing exactly what blood test and ultrasound test results are and help avoid missed appointments, duplicated tests and misinformation. There's so much information included throughout this Baby Book, including explanations about growth development, percentiles, information on SIDS (Sudden Infant Death Syndrome) and preventative tips, breastfeeding and the benefits.
This baby book is the ultimate baby keepsake for both mother and child. Not only can 'My Baby Trakker' be used to track pre-natal care and delivery information but it can be used after childbirth as well. There's so much information to keep track and My BabyTrakker has a place for it all such as; a daily management/planner calendar, well baby visits and checkups all the way through 2 years old, immunization records, injury and surgical records, medications, allergies, keepsake pictures, milestones and accomplishments all the way through age five… the list goes on and on. Finally a baby book that has everything. This is a must have for any home library.
You can find My Baby Trakker online at MedTrakker, Amazon, Barnes and Noble and many other popular book retailers. Author Amber Bowden is available for speaking events, book signings and expert quotes and can be reached at Linkedin and on Twitter to answer further questions regarding the whole family of MedTrakker Personal Medical Record Organizers.