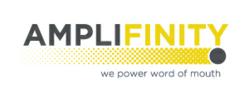 HUGE congratulations to Amplifinity for their victory in becoming the first People's Choice WOMMY award winner.
-Suzanne Fanning, WOMMA President
Ann Arbor, MI (PRWEB) November 20, 2012
The Word of Mouth Marketing Association (WOMMA), the official trade association of the word of mouth and social media marketing industries, named Amplifinity, creator of AMP (the Advocacy Management Platform), the People's Choice WOMMY Award winner at the November 2012 WOMMA Summit in Las Vegas, NV. The WOMMA People's Choice Award gave WOMMA members, brands, and vendors the opportunity to submit their most effective case studies online. Submissions were voted on over a period of three months.
WOMMA President Suzanne Fanning said, "Consumers and fans have the power today, and that's why we wanted to give them a chance to voice their opinions in the WOMMY Awards this year. We were delighted to have such an incredible number of fans showing their support for their favorite companies and some great campaigns this year. HUGE congratulations to Amplifinity for their victory in becoming the first People's Choice WOMMY award winner."
Amplifinity's case study and accompanying video showcased a successful word-of-mouth/social marketing program featuring their client, American Laser Skincare, the nation's largest provider of laser-based aesthetic services. American Laser Skincare, during a period of growth in both customer acquisition and company expansion, were looking for an innovative way to ensure continued growth. They partnered with Amplifinity to create a social program that created over 11,000 new clients in the first year alone.
"Being recognized for our work both by WOMMA and our peers and followers is an honor, and the consummate example of what Amplifinity's mission – to leverage customers, employees and third parties to advocate on a brand's behalf to drive measurable and meaningful social advocacy," said Richard Beedon, CEO of Amplifinity. "We were also proud to represent one of our original clients, American Laser Skincare, who has long been committed to providing top-of-the-line services for their own clients."
"Not only did Amplifinity's winning case study provide valuable content to all those who read it, but Amplifinity was able to spread the message further than any other submission, and that is why they took home WOMMA's first-ever People's Choice Award," said WOMMY co-chairs Laura Levitan, Chief Evangelist, MRY, and David Yarus, Marketing Manager, MRY.
Find Amplifinity's case study at: http://womma.org/wommys2012/peopleschoice/nominee-1.php
ABOUT AMPLIFINITY
Amplifinity is one of the pioneers in the development of social marketing platforms. Amplifinity's Advocacy Management Platform (AMP) is being used by leading companies to generate social behavior by mobilizing customers, employees and third parties to refer new prospects, endorse products, and amplify marketing messages. With AMP, brands are able to acquire customers at a fraction of the cost of traditional channels, thereby increasing revenue, retention, and profitability. Amplifinity is a proud member of the Word of Mouth Marketing Association (WOMMA). Information about Amplifinity can be found at http://www.amplifinity.com.
ABOUT WOMMA
The Word of Mouth Marketing Association (WOMMA) is the official trade association dedicated to word of mouth and social media marketing. Founded in 2004, WOMMA is the leader in ethical word of mouth marketing practices through its offline education such as the WOMMA Summit, professional development opportunities, and knowledge sharing with top industry marketers. WOMMA's membership is made up of the most innovative companies committed to progressing the word of mouth marketing industry through advocacy, education, and ethics.