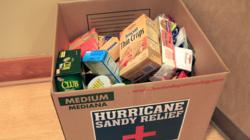 ORLANDO, Fla. (PRWEB) November 20, 2012
SoftRock, a rapidly growing Orlando-based technology company, successfully completed a canned food and donation drive for the local region and to aid those affected by Hurricane Sandy.
SoftRock collected five large boxes of food for Second Harvest Food Bank of Central Florida from SoftRock's employees and visitors. The company also made a monetary donation to the Community FoodBank of New Jersey to help with Hurricane Sandy relief efforts.
About SoftRock
SoftRock Inc., founded in 2005, is a technology and media company that builds and operates advertising-based websites and social and mobile applications. SoftRock has grown by combining cutting-edge technology with exceptional customer service and an employee-centric environment. The company sponsors multiple community events each year and has several company sports teams. SoftRock is the place where software rocks.
###
For additional information, interview and image requests, contact Axia Public Relations at 866-999-2942, ext. 700.