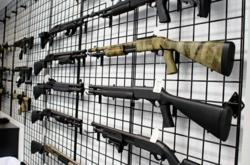 Black Friday Specials!
Denver, CO (PRWEB) November 21, 2012
The BluCore Shooting Center, a shooting range, gun store and firearms training facility located in Denver is owned and operated by 2 former Navy SEALs. They started this business with one goal in mind: "re-defining the firearms experience."
This year has been a very busy year for them. They've added a lot of inventory to their gun store due to an increased demand. They've also added a variety of classes to their list of combat proven, realistic firearms training classes. And of course, things are always busy on their well ventilated, well lit shooting range.
Throughout the year, they've run a variety of in-store promotions and specials. Because this is a veteran owned small business, they typically run a promotion or special on Memorial Day, Independence Day and most recently Veteran's Day.
Now, they are joining the holiday chaos by having their own Black Friday Special! It's their way of saying thanks to all their great fans and customers.
So come out to the BluCore Shooting Center on Nov. 23rd, on Black Friday! They are opening early and will be discounting the prices all day on their annual Memberships. They are also discounting BluCore branded items including: fleeces, hats and shirts. They don't discount these items that often and they make great Christmas gifts and stocking stuffers for the shooter on your list.