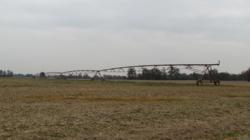 Many people speculate that the Presidential election would bring changes to farmland prices.
Henderson, Kentucky (PRWEB) November 27, 2012
758 acres of productive cropland in Henderson County, Kentucky will be sold at absolute auction Wednesday, December 12, by Kurtz Auction & Realty Company on behalf of The Beasley Farm Trust.
"The Beasley Family has successfully pieced together several parcels of high-quality cropland in the fertile Ohio River bottoms near Reed, Kentucky. The stewardship exercised by the Beasley Farm Trust and by the late Mr. & Mrs. J. L. Beasley is evident in the conservation efforts, yield-enhancement practices and the installation of two center-pivot irrigation systems," said John Kurtz, the auctioneer in charge of the project.
The property, near the confluence of the Ohio and Green Rivers, will be offered in four tracts, with 600 of the acres in contiguous parcels. In addition to the irrigation system, the land is also improved by a home and a metal shop building.
"An absolute auction of land of this quality makes for a great opportunity to invest in what is perhaps emerging as the new 'gold standard'... productive cropland," said Kurtz.
Farmland prices have escalated over the last few years. Farm operations have become highly scalable businesses and the risk of diminished margins have made it imperative that they gain more land or face revenue that won't clear the input costs.
Speculation from agriculture industry watchers about what happens to land prices after the Presidential election has been mixed. The bullish forecasters believe the elevated farmland prices will be around for several crop years. Futures markets seem to be supporting a long run in elevated farmland prices with corn pricing at or around $6 per bushel through 2015.
Most buyers of farmland at auction are attracted to the sales because of the growth of protein-based diets in emerging markets of high populations. Forecasts show China's demand for corn imports to rise from 1 million tons in 2010 to 15 million tons by 2014.
Before the election, farmland in the region was selling for $5,000 to $14,000 per acre.
The auction will begin at 10 a.m. at the shop building on Tract 2 (21482 Hwy 811, Reed, KY).