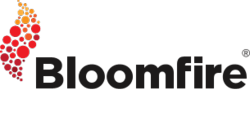 Bloomfire is ahead of the curve in that the platform harnesses the great value of knowledge, not just through sharing but through built-in content creation tools.
AUSTIN, TX (PRWEB) November 20, 2012
Bloomfire, the company that is revolutionizing knowledge sharing in business, today announced that the company has earned a top rating for its knowledge sharing platform, garnering an overall score of 9 out 10 stars from GetApp. GetApp is the largest independent online marketplace that helps small to mid-sized businesses and startups discover, evaluate and manage their ideal cloud business applications. In addition to the company's overall score, Bloomfire also achieved top marks in the ease of use, assorted features, business value and ease of deployment categories.
Bloomfire tackles the fundamental approach to information sharing within a company or an organization. Purpose-built for the convergence of content management, social business software, file sharing software and learning management software, the Bloomfire platform focuses on the way people really learn – from one another at the exact time of need. Enabling team members to follow experts or learn from a collective pool of knowledge, the platform can be built to share training program knowledge or information about a customer community, or to simply address company best practices and onboard new employees.
Important elements of the application include advanced search facilities and easy-to-use tools for the creation and consumption of enduring content. However, in its most basic iteration, team members can simply ask questions or contribute to a discussion on Bloomfire, allowing users to search out answers to accomplish the tasks at hand, leading to better overall job performance.
"As the business ecosystem experiences major shifts in the way we work, we as a workforce are constantly searching for ways to manage and streamline the methods in which we engage with each other," said Heidi Farris, Vice President of Marketing at Bloomfire. "Central to this evolution of work is the question 'do you want to just share files or do you want to share knowledge and concepts?' Bloomfire works to address this issue by seamlessly facilitating the peer-to-peer mentoring and capture of tribal knowledge that goes beyond email trails or the transfer of stagnant documents."
According to GetApp, the standout feature of Bloomfire is that the platform can capture any type of unstructured information on the fly and present it in different types of presentation material, making it available to team members, partners, or customers at any time so that everyone can benefit from collective wisdom of their team in real-time.
"Businesses are quickly realizing that knowledge is power, a recent development that has led companies to add social features to content management applications to aid in internal collaboration and content sharing," said Christophe Primault, CEO of GetApp. "Bloomfire is ahead of the curve in that the platform harnesses the great value of knowledge, not just through sharing but through built-in content creation tools."
To read the full review on GetApp, please visit: http://www.getapp.com/blog/bloomfire-review/
To test drive and deploy Bloomfire for free, please visit: http://www.bloomfire.com/free-trial/
About Bloomfire
Bloomfire is a knowledge sharing tool for the modern workforce, connecting people who have knowledge with those who need it so that your organization continuously improves. In a Bloomfire you find practical, informative content, right when we need it. Uncover tribal knowledge that was previously buried in email and hallway conversations. Create new videos and posts. Search and browse enduring content. Ask and answer important questions. Find and follow experts. To learn more, visit: http://www.bloomfire.com
Bloomfire is a trademark of Bloomfire, Inc. Other names mentioned herein are recognized to be the property of their respective owners. All rights reserved.