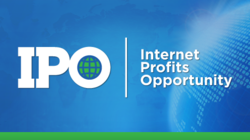 This is one of the best ways we've seen for new marketers to learn and earn at the same time and it's creating a lot of buzz online in the IM community.
Scottsdale, AZ (PRWEB) November 20, 2012
Famous Internet marketer Michael Cheney has created what many are considering a unique opportunity for new online marketers - he's giving away 100% of the front-end profits from his upcoming product launch to those who choose to become members of his "Internet Profits Opportunity (IPO)."
In his latest video, Cheney says he's tired of seeing how new online marketers are being sold worthless push-button software and incomplete courses that just don't work, so he's come up with a solution that makes it easy for new online marketers to experience real success online.
Unlike traditional affiliate programs that require an online marketer to make sales, Cheney says he is going to divide 100% of the profits of his upcoming launch amongst the 300 IPO members whether they choose to promote the launch or not.
"We haven't seen any big Internet marketers offer a program like this. It looks like a real win-win to us." reported StrategicProfitsFormula.com after a review of IPO.
Perhaps one of the biggest benefits of becoming a member is the fact that members will get to follow along as Cheney teaches how highly-successful online marketer create profitable product launches.
Cheney will be doing 12 "Live Cash Casts" where members will get to look over his shoulder as he creates the product which will initially be launched on the Warrior Forum. Members will also receive blueprints detailing how members can create their own product launches by modeling Cheney's methods.
To maximize the results for each member, Cheney is limiting membership to 300 members and he is closing the doors to new members within a few days, so those interested should visit the official page here.
To explain the benefits of this unique opportunity, Cheney has created a special video which can be viewed on the official site.
StrategicProfitsFormula.com provides marketing tips, tutorials, and affiliated product reviews to online business owners who want to increase their profits in less time.