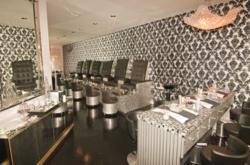 We were overwhelmed by the response to our Spa Black Friday, so we quickly created an online Cyber Monday promotion
Delray Beach, FL (PRWEB) November 23, 2012
"We were overwhelmed by the enthusiastic response to our Spa Black Friday, so we quickly created an online Cyber Monday promotion," said Cindy Calvagne, Bella Reina Spa Manager. The spa is offering a Cyber Monday shopping experience that is only a click away with free spa gift cards and free shipping.
The Relax Spa Package is one of the most popular spa packages offered by the spa as it pampers clients with either a spa massage or spa facial, anti-aging treatment boosters, collagen eye mask, and an isotonix cocktail. The package is a $212 value but can be purchased for $150 and gratuity is included. With the Cyber Monday promotion, purchase the Relax Spa Package and receive two $25 Free Gift Cards.
Bella Reina Spa, South Florida's premier spa provides spa packages and services to thousands of clients each year. The boutique spa is unique in that the services are results oriented and cater to those wanting spa programs. Services include massages, facials, pedicures, lashes, makeup, and several spa packages.
Spa gift card shoppers can be at their computers or on-the-go using their mobile device to access Bella Reina Spa's Cyber Monday promotion. Spa gift cards can be easily personalized with a custom message and picture. There is no shipping time on the e-gifts, and free shipping for the gift boxed and wrapped gift cards. Shopping for spa gifts has never been easier with the free gift cards from Bella Reina Spa.
About Bella Reina Spa
Bella Reina Spa is the leading provider and definitive authority on beauty, wellness and spa treatments in the South Florida area. The spa is dedicated to providing outstanding services and anti-aging treatments, like the non-surgical facelift or the slimming infrared body wrap, to guests with busy lifestyles. Bella Reina Spa was created by Nancy Reagan, a nationally recognized expert in beauty, nutrition, weight loss, skin care and makeup. To learn more about how Bella Reina Spa is constantly innovating spa services, programs and packages please visit Bella Reina Spa.com.