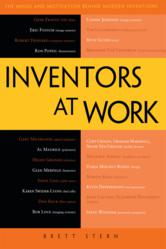 "The best way to predict the future is to invent it".
—Alan Curtis Kay, American computer scientist, former Senior Fellow at Hewlett Packard Labs
New York, NY (PRWEB) November 21, 2012
It's been done and applauded numerous times in history. People who are passionate about an idea, passionate about the mechanics, passionate about execution and delivering a great product to the market. People we term as "Inventors" and the greatest inventions have come from Inventors with a vision to change the world, a passion to rewrite history. Each has altered the modern world as we know it in some significant way.
INVENTORS AT WORK (Apress; October 2012) by Brett Stern brings the greatest inventors of our times under a single roof. The author sits down with some of the most distinguished inventors as Steve Wozniak, cofounder Apple Inc.; Gene Frantz, Texas Instruments; Reyn Guyer, NERF Ball; John Calvert and Elizabeth Dougherty, The United States Patent and Trademark office (USPTO) and many more and aims to probe deep into their thinking, their insights and their motivations.
Some of the inventors interviewed here have their Aha! moments in government, institutional, or industrial labs; develop their inventions with multidisciplinary teams of experts; and leave the marketing of their inventions to other specialists in the organization. Other inventors in this book develop their inventions with small teams in academic labs and try to translate their research into product via licenses or start-up companies. Still other inventors carry on the classic lone-inventor-in his-garage tradition and take on the task of bringing their products to market themselves. And a few mix and match their strategies, bringing skills honed in big labs home to their garages and licensing their personal inventions to big corporations.
INVENTORS AT WORK is a required reading for all technical and creative individuals to better understand the innovation process and the logistics of following through on an idea that has the potential to change society. This book provides insights into the nature of creativity and intuition, the skill set needed, and the force, motivation, or desire that must be summoned to spend endless hours searching for an answer to a question that no one else has asked or solving a problem most think has no solution.
Brett Stern is an industrial designer and inventor living in Portland, Oregon. He holds eight utility patents covering surgical instruments, medical implants, and robotic garment-manufacturing systems. He holds trademarks in 34 countries on a line of snack foods that he created. He has worked as an industrial design consultant for such clients as Pfizer, Revlon, and Saatchi & Saatchi, and as a costume materials technologist for Warner Bros.
BRETT STERN IS AVAILABLE FOR INTERVIEWS. You can learn more about Inventors At Work at http://www.inventorsatwork.com
Publicity Contact:
Stephanie Carino | (212) 620-8062 | stephaniecarino@apress.com
INVENTORS AT WORK
by Brett Stern
Print Price: $24.99, eBook Price: $17.99| 324 pages | ISBN: 9781430245063