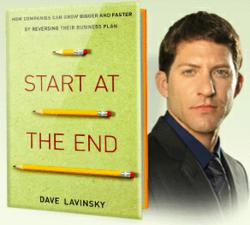 Los Angeles, CA (PRWEB) November 21, 2012
What
"Start At The End" goes beyond the business book to help entrepreneurs and business owners grow faster and more profitably by reverse engineering their plan for success. This book will help your audience break the habit of focusing too much on short-term goals and develop more practical techniques for reaching their big picture company goals. Start At The End offers these comprehensive steps in ways that business owners at all levels can implement and see phenomenal results, fast.
Who
Dave Lavinsky is an influential serial entrepreneur and author who has helped over 500,000 entrepreneurs raise over 2.5 billion in growth capital over the past decade. Dave has an MBA from the Anderson School of Management at UCLA and has lectured at top universities across the nation. He is a contributor for Forbes Magazine and his strategic and leadership techniques have even been used for training by the US military.
When
November 2012 Release by Wiley Publishing
Where
http://www.startattheendbook.com or http://www.facebook.com/startattheendbook
Why
Dave wrote Start at the End to help business owners at all levels work beyond their everyday tasks so that they can spend more time with their friends and family. His book aims to help your audience learn how to work less hours and spend more time on big picture goals in a highly efficient/ground breaking way.
Questions? Please contact Raquel Castillo at raquel(dot)castillo(at)growthink(dot)com or (917) 558-1226 to request a copy of Start At The End. Raquel is also available to connect you with Mr. Lavinsky personally for media interviews or appearances.
Click here to read Fast Company Magazine's favorite excerpt from Start At The End!