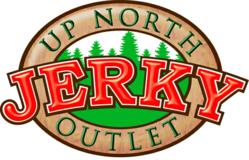 The combination of Cajun spicing and slow smoked brisket demands the perfect balance of time, temperature, smoke and spice. The result is delicious.
(PRWEB) November 21, 2012
Up North Jerky Outlet has announced the addition of Cajun Honey Barbeque Brisket Beef Jerky to their product line. This exciting new flavor joins a premium selection of beef, turkey and wild game jerky available from Up North Jerky Outlet at their online store. Scott Christ, Up North Jerky Outlet National Sales Manager, is very optimistic about the market potential of the new flavor.
"We have been working on perfecting this product for while. Our smokehouse masters put a lot of time into getting it right. The combination of Cajun spicing and slow smoked brisket demands the perfect balance of time, temperature, smoke and spice. The result is delicious."
Bill Szlachta, Up North Jerky Outlet Events Manager, is a very experienced jerky taste tester and sampler. Bill describes the new product best, "Cajun Honey Barbeque Brisket Jerky is a culinary balancing act, combining the sweetness of honey with the tangy heat of Cajun chili. The heat comes on slow but hangs in there with a little help from the background hint of black pepper." Bill adds the following anecdote, "When we first took the Cajun Brisket to a trade show we brought what we thought was a big supply, more than any of the other flavors. Within three hours of opening, the Cajun Brisket was gone. All gone. Sampled and sold, gone."
Up North Jerky Outlet jerky is made with whole muscle meat with no fillers. Real beef rounds and turkey breast are used for most of the flavors, along with authentic venison, elk and buffalo. The Cajun Honey Barbeque Brisket is made from a special cut popularized by authentic Texas barbeque pitmasters. Besides the Cajun Honey Barbeque Brisket, there are five flavors of beef jerky, including honey barbeque, peppercorn, teriyaki, blazin' hot and cherry maple. Turkey jerky is available in honey barbeque and cherry maple flavors. Wild game jerky is available in 3 oz. packs of buffalo, venison and cherry maple elk.
One of the most popular products is the mini hunters sausage, a small jerky sausage stick available in five tasty flavors including original, hot & spicy, garlic, jalapeno and teriyaki. "The mini hunters just fly off the shelves," says Scott. "The combination of pocket size packs and great taste make these a natural for any outdoor activity." Also popular are the larger king size hunters available in original and jalapeno flavors. These are also available in very popular larger bulk packs.
Paul Lyons, Up North Jerky Outlet founder and CEO, says, "Many of our original flavors come out of an authentic "Up North" smokehouse tradition of the northern lumberjacks and early settlers."
"Up North Jerky Outlet is more than just a distribution company. We are a motivating force bringing high quality jerky to a larger market. There is a market for jerky made to a higher standard. Gander Mountain customers are aware that beef and game jerky is a traditional American delicacy. They want a higher standard." Up North Jerky Outlet products are available online at http://www.upnorthjerky.com for delivery via UPS or USPS, with orders over $75 shipped free.
Up North Jerky Outlet
1437 Rochester Rd., Troy MI 48083
sales(at)upnjo(dot)com
http://www.upnorthjerky.com