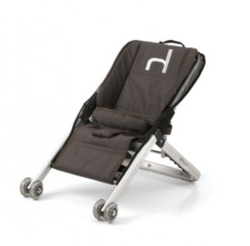 Not Your Ordinary Bouncer Seat
West Des Moines, Iowa (PRWEB) November 26, 2012
When it comes to baby gear, there have been advancements in the years since my kids were infants... some better than others. From some brands, there are new styles and designs of the products.
While parents love enjoying baby snuggles when they are still so little and sweet, it's just not possible to hold them all the time. So, much of the baby gear in the house will revolve around safe places for baby to "hang out" when we're not holding him or her such as a swings, play mat, or a bouncer seat. A relatively new product to the US is a bouncer seat, the Babyhome Onfour. Right away, the seat is seen with a very sleek and modern design and it has a non-baby look to it.
There's a whole variety of colors sold on Bliss Baby & Maternity.com to choose from. The Babyhome Onfour Bouncer is not your typical bouncer: With a simple cushion system, it ensures complete comfort for baby. The upper fabric of the Babyhome Onfour Bouncer can be removed, leaving breathable mesh so baby stays comfortable when it's warm. The main structure of Baby-home Onfour Bouncer is made of aluminum, making it very light and resilient.
In addition to those features, the bouncer has two wheels up front, which is a design unlike any other bouncer seat. This feature makes it really easy to move baby around the house with baby remaining safely in the seat. The most appealing feature is the fact that it collapses into a compact size (and fits in a tote bag that it comes with), making it absolutely perfect for travel! So, if traveling frequently or even if just across town to a friends' or family's houses that don't have a lot of baby gear, the Babyhome Onfour is worth checking out! Bringing the Babyhome Onfour is super convenient. Just toss it in the tote bag (with the collapsed seat inside) into the car and set it all up once the destination is reached.
Clearly it is most comfy and baby will fall right to sleep. At that time the wheels come in handy to move baby out of the way into a good spot for napping. Super convenient! There are various levels so the angle can be adjusted on the seat for more of a reclining position.
The seat isn't really as "bouncy" as more traditional bouncers, but that is not an issue as it is very comfortable and easy to use so when looking for a stylish baby bouncer seat or one that is great for traveling, the Babyhome Onfour is worth considering.
Retailing for $129, the Babyhome Onfour can be purchased from http://www.blissbabyandmaternity.com and is available in other fun colors such as red, lime, purple, navy and more. Much more information about the Onfour as well as Babyhome's other great products can be found on the website so please visit soon. You will want to connect with Bliss Baby and Maternity.com on Face book and Twitter for new product introductions and more.