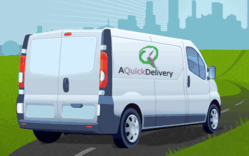 Atlanta, GA (PRWEB) November 21, 2012
AQuickDelivery, a recognized leader in messenger and courier services, has announced GPS Tracking capabilities for all of its drivers. This is to ensure their clients of a superior customer experience, as well as on-time deliveries. The system exemplifies AQuickDelivery as a courier company that utilitizes the latest in technology to optimize management of their drivers and driver communications.
The GPS tracking system is used by their dispatchers for real-time tracking via droid technology. All drivers have a droid communications device linked to GPS tracking. Dispatchers are able to locate any of their driver fleet and communicate exactly where they are. As a result, dispatchers can account for estimated times of pick up and delivery. This is beneficial also for re-routing deliveries and transferring packages, in the event a driver is in an accident or is prohibited from make a successful delivery.
With all drivers being GPS tracked, AQuickDelivery is able to create delivery efficiencies. This includes consolidating package deliveries, which a driver can be quickly notified of a new pick up that is in their current location or in a general radius. The Atlanta courier stands by their business philosophy that the more efficient their services are, the greater savings they can offer their customers.
AQuickDelivery is a premier courier offering transportation and distribution services throughout Georgia. From small packages to palletized freight, AQuickDelivery is able to deliver. The courier provides same-day delivery successfully for over 1,500 clients, including Fortune 500 companies. As a leader in the courier industry, their goal is to perform optimal courier logistic solutions and superior customer service every time.