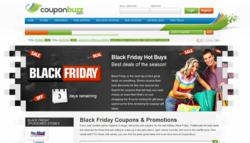 This webpage allows shoppers the unique opportunity to find the best deals from a variety of merchants all in one place.
Houston, TX (PRWEB) November 21, 2012
It's the most wonderful time of the year! The holiday shopping season officially opens this Friday as online retailers join brick and mortar businesses to offer stunning Black Friday deals and coupons. Online coupon website CouponBuzz.com has maximized their insight on the best deals from all the top merchants by creating a special Black Friday deals webpage. This webpage features the best coupons from their top-selling merchants, like Sony, Best Buy, HP, Lenovo and MacMall.com.
Because of their connection to all of the hottest savings across the internet, CouponBuzz.com is uniquely placed to create a one-stop shop to satisfy Black Friday shopping frenzy. In addition to their merchant-specific web pages, which always aggregate the best deals being offered by an individual store, the Black Friday webpage will showcase the jaw-dropping deals that are valid only during this unique shopping period.
Online shoppers are already ahead of the game by choosing to stay at home and do their shopping with a click of the mouse. CouponBuzz.com's newly launched Black Friday section simplifies Black Friday shopping for these savvy consumers one step further. Shoppers don't even have to navigate to multiple websites to ensure they are getting the best deals and coupon codes available. A simple one-click process allows them to cut and paste the coupon code into their browser, and navigates them directly to the product page of the retailer so they can add it to their shopping cart!
"Each year as Black Friday approaches we spend a lot of time making sure that our Buzz Guides hand-select the very best of the Black Friday deals for our special Black Friday webpage," explained Justin Bowen, founder of CouponBuzz.com. "This webpage allows shoppers the unique opportunity to find the best deals from a variety of merchants all in one place. We find that providing unique features like our dedicated Black Friday section differentiate us from the competition, and ensure that our online shoppers keep coming back to CouponBuzz.com for all of their holiday needs."
The Black Friday webpage is up and running today, so interested shoppers can check it out and see what is already on offer. However, bear in mind that many of the merchants will not post their best deals until tomorrow. It might be a good idea to bookmark the following link to CouponBuzz.com's special Black Friday section, just to make sure there are no delays once Black Friday frenzy hits, http://couponbuzz.com/seasonal/black-friday.