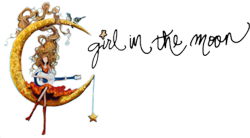 Nashville, Tenn. (PRWEB) November 21, 2012
Insight into Nashville artist Leigh Ann Agee's vision and passion is now available online. Agee's imagination has spun a beautiful story of hope, wishes and girlish adventure through her collection of paintings inspired by the fictional character Melody. Melody, a coltish beauty whose constant companions include her guitar, the moon, cowboy boots and those signature Rapunzel-like curls that stand on end with the electricity of her dreams, ebbs in and out of each of Agee's works with a childlike wonder and unhindered energy. The sophistication of Agee's painting, coupled with the curiosity and spirit of Melody's character, make for whimsical art that appeals to both children and adults, alike.
Through girlinthemoon.com, this sparkly, wispy surge of energy and adventure opens to a worldwide audience—fitting for Agee's work that, in her words, is inspired by the universal language of music. Featuring a starlit gallery of work that engages the imagination, Agee's personal story and thought behind the series as well as an ever-evolving list of where to meet the artist, the Horton Group website design accurately reflects the spirit of the art. Agee's and her Girl in the Moon's career are waxing and in high demand through commissioned works as well as the natural, emerging tales that spring onto canvas. In addition to viewing Agee's colorful creations, visitors to the website can also purchase Girl in the Moon apparel.
For more information about Girl in the Moon swing by the newly fashioned online art gallery. Leigh Ann Agee is a Bristol, Tenn. native whose murals and other artwork have been recognized by interior designers and won numerous awards at Parade of Homes Show across the Southeast.
Horton Group is a Nashville-based full-service marketing agency specializing in web design and development.