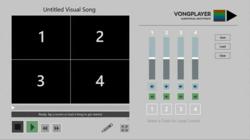 Multi-track Vongs (Visual Songs) can be recorded by more than one person and shared between friends
Perth, Western Australia (PRWEB) November 22, 2012
Musicians now have a more visual way to record and collaborate thanks to an innovative new webcam recording app for Windows 8 called Vongplayer.
Musical multi-track videos have been showing up on Youtube for a little while now. For the first time Vongplayer brings some of that music geek power to the people by making it social.
The app allows sharing of video content via email and Skydrive, so multi-track Vongs (Visual Songs) can be recorded by more than one person and shared between friends.
Developer and musician Roly Skender says "Windows 8 was chosen as the initial development platform due to its support of existing hardware like webcams and sound cards for higher quality audiovisual multi-tracking".
Skender was originally inspired by the sheer number of musicians on Youtube performing into their webcams. He imagined a system that would enable musicians to collaborate on a global scale using these videos. It was obvious that live jamming via the internet was fraught with timing difficulties so the answer was in a recording-based collaborative tool.
Early incarnations of the project were funded with R&D grants from the Perth Institute of Contemporary Art, Department for Culture and The Arts and Screenwest in Western Australia. This development was a collaborative effort between Skender and UK programmer Russell Blakeborough, also known for his continuing work on VJamm, one of the first video performance and remixing software tools.
After some mixed results working with Flash media servers and video recording in browsers, Skender (who started learning programming mid-way through the project) saw Windows 8 as an opportunity to put together an app relatively quickly that maintained synchronisation between video tracks.
"The intention now is to expand the social side and see how we can make it easier for people to share Vongs.. and maybe even meet new people to collaborate with, that could be fun." It could result in some interesting new music too.
Android and iOS versions of Vongplayer are also planned.
Frankensound Audiovisual Production Lab is based in Perth, Western Australia. The studio specialises in audiovisual production, design and composition for theatre, film and television. Owned and managed by musician and producer Roly Skender, the business also creates musically-minded apps targeted at song writers. Frankensound's first app also has a 5 star rating on Google Play. Songo is a simple chord finding tool for musicians and has been a popular download on iOS and Android.