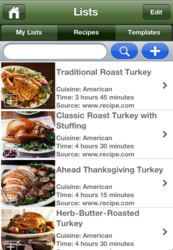 Over 40% of Shoppers are still undecided on what brand of turkey to buy for Thanksgiving
New York, New York (PRWEB) November 20, 2012
Shopper, a leading mobile shopping list application with more than two million installs, surveyed its user base to determine the brands of turkey that users planned to cook for Thanksgiving. Noteworthy findings included:

40% of those surveyed had not decided what brand, if any, to select.
16% planned to buy the turkey provided by their favorite retailer.
Of those selecting a specific brand, a dominant 36% market share was commanded by Butterball. No other single brand was over 5%.
15% of respondents were not planning to cook a turkey, down from 25% in a similar survey conducted with Shopper users 12 months ago.
While discussions of organic and free-range turkeys dominate foodie websites, there was no statistically significant mention of these choices in the mainstream shoppers surveyed.
"We've run this survey two years in a row and this year we focused more on brand choices." said Sean Flynn, CEO of the Purchase Decision Network, "While Butterball has a dominant hold of the brand purchases, there is clearly plenty of room for a second and third choice to emerge."
Shopper saves users time and money every day by organizing shopping lists, suggesting great recipe ideas, and suggesting grocery coupons and store flyers.
Shoppers can visit http://www.MyShopperApp.com for more information and to download the application.
About The Purchase Decision Network and Shopper
The Purchase Decision Network (New York) owns Shopper, which has been downloaded by over 1 million users from the iPhone, Android, Blackberry and now Intel AppUp stores, where it continues to delight consumers with a simple and intuitive interface. Shopper saves time and effort on everyday shopping, automatically matches shopping lists to savings offers, and shares lists, recipes, tips and savings with friends and family.
Contacts
Sean Flynn, CEO
The Purchase Decision Network
(888) 816-8125
pr(at)pdnmedia(dot)com