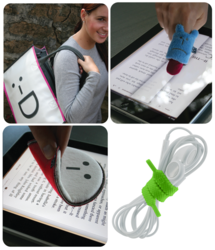 Unplugged Goods is a reaction to our observation that tech gear is moving out of the workplace and weaving itself into the narrative of how we live.
San Francisco, CA (PRWEB) November 27, 2012
The San Francisco-based product design company, Unplugged Goods, recently launched its line of colorful, character-driven tech accessories. The product line includes laptotes, screen puffs, finger mitts, and shoelace-inspired cord organizers.
The team behind the company, Dante Pauwels, a Stanford-trained product designer, and Cindy Glass, an investment world refugee, joined together to form Unplugged Goods in response to their observation that technology was shifting out of the workplace and into more personal spheres, but not many accessories were following suit. They observed a need for well-designed, colorful, and fun companion products for high tech devices that have many low-tech needs – transporting, cleaning, protecting, and organizing.
"We launched Unplugged Goods to reflect the changing role of our tech gear. These devices aren't just for doing work anymore. They've become woven into the narrative of how we live," said Glass. Pauwels continued, "We chose design elements – colors, textiles, and iconography – to reflect the more personal relationship we have with our smart phones and tablets."
Unplugged Goods are available at unpluggedgoods.com and expect to be in retail outlets in early 2013. The team also recently concluded a successful Kickstarter project for The Unlace, a colorful, rubbery, twistable lace for managing cords.
About Unplugged Goods
Unplugged Goods was conceived and executed by Dante Pauwels, a Stanford trained product designer, and Cindy Glass, a Darden MBA and former financial analyst. Old friends from their days in Boston, they recently joined together to start Unplugged Goods, a tech accessories company that launched on October 31.