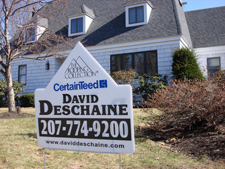 Keep Out The Rain And Save Money In Maine - Call Dave Deschaine
South Portland , Maine (PRWEB) November 20, 2012
In Maine the weather can wreak havoc on a home's siding, especially if it's a cedar or other wood product. Portland-based roofing and siding contractor David Deschaine wants area residents to know his company is now offering CertainTeed insulated vinyl siding. CertainTeed is one of the biggest names in siding products, and their insulated Cedar Boards siding is one of the hottest products on the market right now.
Vinyl Siding Maine
The secret behind Cedar Boards is it's built-in layer of foam insulation. That insulation adds durability to the siding as well as providing superior thermal performance in both hot and cold weather.
It will help save you money by reducing the need for both furnace and air conditioning use. And with the cost of electricity, natural gas, and home heating oil all continuing to rise, new insulated vinyl siding from CertainTeed could be the best way to keep energy costs down.
Best Vinyl Siding In Maine
CertainTeed's Cedar Boards is also an environmentally friendly product as well. The siding panels are made, in part, using recycled and reclaimed materials. In order to enhance its beauty, the outer face is molded using impressions taken from genuine cedar boards.
Roofing And Vinyl Siding In Maine
CertainTeed has gone to great lengths to ensure their siding is as beautiful as it is efficient.David Deschaine is proud to be a CertainTeed installation specialist serving the Greater Portland Maine areas. His company is committed to offering five-star service along with a workmanship warranty to all customers. You can get full details of company's products and services by visiting their website at http://www.daviddeschaine.com.
About the company:
David Deschaine Roofing and Vinyl Siding Company has been offering professional and trusted home improvement services for over 25 years. With thousands of satisfied customers throughout Southern Maine, David Deschaine has the most trusted and recognizable name in the industry. Servicing Greater Portland Maine areas. His company offers 5 Star Coverage to customers, and with 25 years experience there is a benefit of a Workmanship warranty. For more information visit their website at http://www.daviddeschaine.com.