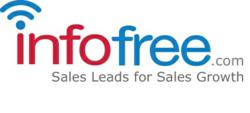 San Mateo, CA (PRWEB) November 20, 2012
infofree.com, the leading provider of unlimited sales leads and mailing lists for the low, flat price of only $49.95 per month, has just announced that it has just unveiled its improved radius search and is in the process of implementing other enhanced mapping capabilities.
Utilizing the power of sales leads and mailing lists is no longer enough to stay ahead in this competitive economy. The most successful marketers take their prospecting to the next level by targeting potential customers by specific geographical areas. infofree.com subscribers can search for prospects by any geographic area, including city, county, state, area code, up to 15 zip codes, and now, by a radius of up to 15 miles around an address or zip code.
The infofree.com team is also in the process of incorporating the industry's highest-quality geocodes, the latitudes and longitudes of any physical location, into its databases of nearly 300 million sales leads. This will allow subscribers to search by any specific, precise location, as well as view their prospects and customers on a map.
"Our new radius search makes finding and contacting your customers even more foolproof. Being able to view your prospects on a map will help keep you on top of your competition," says Vin Gupta, Founder of DatabaseUSA.com.
To try infofree, visit http://www.infofree.com or call 877-448-0101 for more information.
About Us: infofree.com™ is revolutionizing the sales lead and mailing list industry by providing unlimited search, view, and download of over 12 million business records, 200 million consumers, and hundreds of other specialty databases for the low, flat price of only $49.95 per month. Reach new homeowners, new movers, newlyweds, new businesses, and more!
The infofree.com content is compatible with the following platforms: Oracle CRM, Salesforce CRM, Microsoft CRM, Nutshell CRM, Goldmine CRM, Sage ACT! CRM, Highrise CRM, Zoho CRM, NetSuite CRM, SAP CRM, Constant Contact, RightNow Technologies, Responsys, Vertical Response, and Dun & Bradstreet.