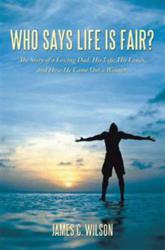 Who Says Life Is Fair? is an 'every man's story' that is meant to help those who have found themselves unfairly estranged from their adult children.
Salt Lake City, Utah (PRWEB) November 26, 2012
What does a loving father do when he finds himself having no relationship at all with his adult children, children to whom he selflessly dedicated a significant portion of his life while they were growing up?
Inspired by a real father, author James C. Wilson's book, Who Says Life Is Fair? gives readers an inspiring tale of a man who experienced the loss of his family, yet still managed to find the path to a joyful and rewarding life.
Wilson's book provides a powerful narrative depicting a difficult and ultimately failed marriage and the rupture of the lead character's relationship with his children. Also depicted is the uplifting story of the joyful and fulfilling life this father is leading in the aftermath of what has happened to his family.
Wilson provides details of the guidelines and principles that the hero follows which have allowed him to experience victory in the face of such loss. These guidelines can be of real help to those for whom personal loss similar to this creates continuing pain. The guidance is positive and effective and can help readers gain the same kind of fulfilled life that the hero in the story has experienced.
"This book is about the life of a loving and responsible father who has lost his relationships with his adult children," says Wilson. "This circumstance provides the background for a captivating, human story that will ring true for what is sadly, a large number of loving parents, to whom a loss of this nature has occurred. Such readers will have a strong frame of reference from which to relate to the story."
Who Says Life Is Fair?: The Story Of A Loving Dad. His Life, His Losses, and How He Came Out A Winner
By: James C. Wilson
Price: $17.99
ISBN #: 978-1-44907-642-9
About the author
James C. Wilson is a writer who was born in Denver, Colorado and who now spends his summers in Alaska and his winters in Utah and Arizona. He is happily married and leads a healthy, active life as he and his wife share their joy in being together.
# # #