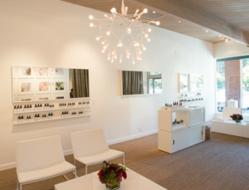 It has been such a pleasure to meet some of our loyal customers and hear their MVO stories.
Mill Valley, CA (PRWEB) November 20, 2012
Sustainable, natural skin care company, Marie Veronique Organics, has launched their first retail store in the heart of Mill Valley, California. While customers will recognize the friendly faces of the MVO team, have opportunities for skin care consultations with renowned founder Marie Veronique Nadeau, and can purchase award-winning products, including the newest addition Pacific for Advanced Anti-Aging Treatment, the changes are not simply skin deep. Moving beyond the traditional retail concept, the thoughtfully designed space encourages personal interaction, education and skincare conversations among friends.
"It has been such a pleasure to meet some of our loyal customers and hear their MVO stories," says Hillary Peterson, CEO and Mill Valley resident. "Equally rewarding, new customers discover us daily, giving us the opportunity to share our products and skin care philosophy. This is a community that genuinely appreciates Marie's ability to identify and source potent ingredients that will counter—and even reverse—the effects of aging without exposure to toxins."
Coffee tables and lounge chairs replace counters and display cases, and customers are encouraged to linger, learn and sample the complete MVO and Pacific lines. Founder Marie Veronique Nadeau is available on most Saturdays to evaluate customers' skin care needs and share her innovative thought process behind her award-winning skincare products.
The Marie Veronique Organics store is fresh, modern and inviting. The walls of the cozy space have been painted a warm white and the floors are covered with natural sea grass rugs. The full product line is elegantly presented on modern shelves beneath mirrored panels and the space features artwork by photographer Kimberley Carr Harmon. Customers are invited to relax in the seating area, where they are greeted by sales staff who will present them with MVO skincare product samples to try, compare and discuss.
The clean, simple look of the store is punctuated by a Patrick Townsend orbit chandelier and fresh flowers. Velvet curtains the color of driftwood create a divider between the sales area and MVO's proprietary blending and mixing lab, and can be opened for press events to create access behind the scenes.
Location: 29 Miller Avenue, Mill Valley, CA 94941
Hours: 10 – 5 PST, Tuesday – Friday and 10 – 6 PST Saturday
Phone: (415) 384-8492
Website: http://mvorganics.com
ABOUT MARIE VERONIQUE ORGANICS: As a former chemistry teacher, Marie developed Marie Veronique Organics with her daughter, physicist Dr. Jay Nadeau. Marie's goal was to create a skincare line that would allow her to age gracefully and naturally. "We are honored to provide you with the smartest anti-aging products on the market. We have a deep scientific understanding of the aging process and we look to nature to provide ingredients that will nourish the skin to aid in slowing down the aging process", says Marie. Marie Veronique Organics operates responsibly and sustainably, sourcing fair trade, organic, and/or locally grown whenever possible, and using biodegradable products, labels, and easily recyclable packaging. Ten percent of company profits are donated annually to The Acumen Fund, a non-profit dedicated to creating better opportunities for women and children in Third World countries. Marie Veronique Organics' award-winning facials are available in select spas, including:
-Solage – voted #1 spa in the Americas and Caribbean by Conde Nast Traveler readers.
-The Inn at Palmetto Bluff – recognized by Travel + Leisure as the #1 spa in the U.S.
-Esperanza – recognized by Travel + Leisure as the #1 spa in Mexico.